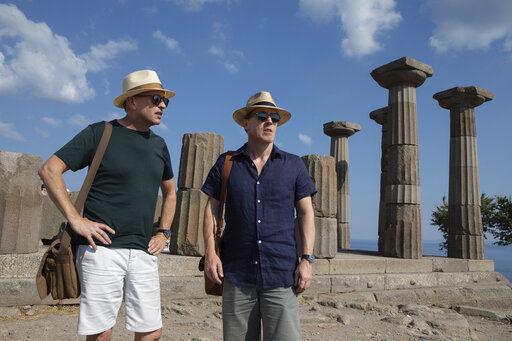 "The Trip to Greece"
Not rated by the Motion Picture Association of America. 103 minutes. ★★★
Most franchises that have made it to four films have by then traipsed the galaxy, pulled off a series of daring heists or freed Willy many times over. The movies of "The Trip," however, have gotten this far almost entirely on the volition of Michael Caine impressions.
Michael Winterbottom's four "Trip" movies, with Steve Coogan and Rob Brydon, are certainly more than that — but not much more. And that's no slight. The exceedingly low stakes of these movies are part of their appeal.
No matter how exotic the surroundings — England's Lake District, the Italian coast, Spanish countryside and now the Greek isles — there's no setting that can stop Coogan and Brydon from falling into their familiar patterns of passive aggression and one-upmanship.
Emerson wrote of travel, "My giant goes with me wherever I go." For Coogan and Brydon, it's the same, only with Mick Jagger impressions. The meals might change, but the banter stays the same.
"The Trip to Greece," which premieres on digital and cable video-on-demand today, is the fourth and purportedly final voyage for Brydon and Coogan. While setting off on their Greece trip, following the steps of Odysseus, they mark the passing of time — 10 years since they began. Their features are a little less sharp but they've both aged well, they agree. "You were unpalatable as a younger man," says Brydon.
"The Trip" (and their preamble of Al Pacino impressions in Winterbottom's preceding "Tristram Shandy: A Cock and Bull Story") remain the best of these films. I think ever since, those of us who keep returning come hoping for a bit as good as their first volley of Caines or their glorious "Gentlemen to Bed" improv.
But that hasn't kept the sequels since from being charming even while their stars are being deliberately irritating. The set-up of "The Trip to Greece" is the same as the last ones, and likewise first ran as a six-part BBC miniseries. Coogan and Brydon, playing fictionalized versions of themselves, are conscripted to write an article about a culinary tour.
On their Grecian trip, there are occasional nods to their mythic path as well as to the world around them. There's a brief, awkward encounter with a migrant camp. But on the whole, the primary tension in "The Trip to Greece," as before, is in who can quip better, and whether their bubble of battling egos and petty jealousies can be burst by anything — or even if we want it to be. When Brydon asks Coogan what he's most proud of, Coogan doesn't hesitate. "Hmm. My seven BAFTAs," he replies.
This sun-dabbled outing brings impressions of Jagger (with claps), Dustin Hoffman, a version of "Stan Laurel and Tom Hardy" (Coogan starred in the recent "Stan and Ollie"), and, naturally, a few bars from "Grease." As always, Coogan and Brydon are comedy opposites who nevertheless speak precisely the same language.
Beneath the bickering, Winterbottom has hinted at deeper midlife melancholia and mixed in interruptions from home. In "The Trip to Greece," Brydon has a moment of discomfort hearing that his wife is unexpectedly not at home. Coogan's father is suddenly ailing.
What makes the "Trip" movies so gently endearing is in how Winterbottom doesn't elevate or diminish the pointless riffs of his stars with the graver matters around them. It's all of a piece. The "Trip" movies were initially inspired by Sterne's "Tristram Shandy" follow-up, "A Sentimental Journey Through France and Italy," a novel that likewise didn't differentiate between the high and low of life. Another way of saying that is: Michael Caine impressions are just as valuable as anything else.
Watching "The Trip to Greece" at a time when such travel is impossible has only heightened the considerable pleasures of these movies (and made the food all the more appetizing). But mostly it's reinforced the simple delight of sitting table-side with Coogan and Brydon. For all their trivial sparring, they are exceedingly good company.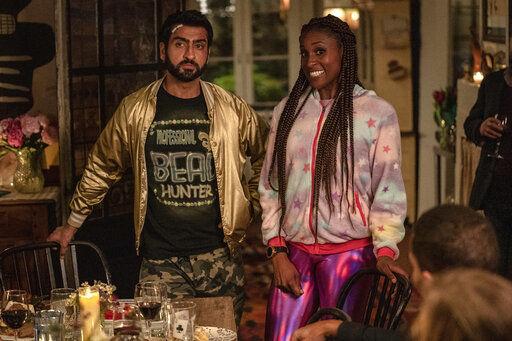 "The Lovebirds"
Rated R by the Motion Picture Association of America "for sexual content, language throughout and some violence." 86 minutes. ★★
"The Lovebirds " stars Issa Rae and Kumail Nanjiani are two of the most exiting voices working in film and television today, as actors, writers and creators.
Rae's "Insecure" and Nanjiani's "The Big Sick" are both vibrant, stimulating and fresh and rooted deeply in the diversity of their own experiences. So it's at least notable that this film, a dark, night-goes-wrong comedy that seems very much in each of their wheelhouses, was not created or written by either. And at times, you kind of wish it had been.
As it is, "The Lovebirds" feels a little too familiar and a little too safe, like all the edges have been smoothed out. Perhaps that's because it was originally a studio film that was supposed to open in theaters nationwide. But the shutdown changed the course of things and now all you need is a Netflix account to see it opening day.
And it's a fine movie to spend 86 minutes watching from the comfort of your home. There are some amusing twists, turns and wardrobe changes as the night gets weirder and more dangerous for this ordinary couple who thought they were just headed to a dinner party.
Directed by Michael Showalter (who also was behind the camera for "The Big Sick"), "The Lovebirds" starts out like a rom-com — a one night stand turns into an all-day hang for Jibran (Nanjiani) and Leilani (Issa Rae) as they futilely try to resist the connection.
But cut to four years later and all the lovey-dovey excitement of that first day has turned into bickering and resentment. The way this particular fight spirals out of control, from light jabbing to full-on insults, is almost uncomfortably relatable and precise for a comedy this broad. It's no wonder they break up on the drive to their friend's party.
But that turns out to be the least of their problems when a collision with a biker (who dies, but not because of them) sets off a series of increasingly odd events. They flee the scene after a pair of obnoxious hipsters starts assuming things about why they're standing over the body of a dead man and continue making poor decisions (including Leilani keeping her sky-high stilettos on for almost half the movie).
In an attempt to clear their names, they accidentally get wrapped up in a bizarre New Orleans underworld of murderous henchmen, a sadistic politician's wife and some unlucky frat guys. It's a little bit "After Hours" meets "Game Night" with a dash of "Eyes Wide Shut" — but that might be overselling it.
Their hijinks are all a bit too random to fully get on board with the journey, and if you stop for a moment to actually think about what is happening and why, the whole thing might just unravel before you. Rae and Nanjiani make the ride fun enough with their easy chemistry and silly, wide-eyed panic at everything they're witnessing. Still, "The Lovebirds" lacks the singularity of its stars' other noteworthy roles.
You could do a lot worse for a Friday night watch, though and will surely get a few chuckles out of it. And don't worry, Leilani does find a pair of sneakers eventually.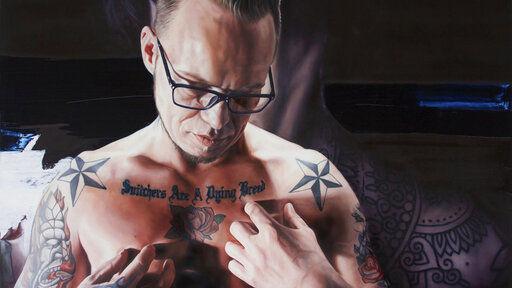 "The Painter and the Thief"
Not rated by the Motion Picture Association of America. 116 minutes. ★★★
The documentary "The Painter and the Thief" has a few wrinkles to add to the old Picasso adage that great artists steal.
"The Painter and the Thief," by Norwegian filmmaker Benjamin Ree, is about a Czech painter, Barbora Kysilkova, who has two of her paintings stolen from an Oslo gallery in April 2015. The two thieves, whose unhurried heist is captured by surveillance cameras, are caught. But the paintings — a pair of large photorealistic works estimated to be worth 20,000 Euros — never materialize.
At the trial for one — a tough-looking, tattoo-covered man — Barbora makes a request. She wants to know why. Why take her two paintings and leave the others? "Because they were beautiful," replies Karl-Bertil Nordland.
Now, if you want to make an artist blush, you can hardly do better than to be so passionate about a painting that you're willing to be incarcerated for it. Barbora is suitably smitten and soon begins meeting with Karl-Bertil to paint him. He becomes her model.
"The Painter and the Thief," which first premiered at the Sundance Film Festival, will debut on Hulu, on-demand and in some theaters on Friday. It's about the relationship that follows between Barbora and Karl-Bertil. Little about how things unfold is predictable. Through twists and turns, "The Painter and the Thief" depicts not just the two-way transactional relationship between artist and subject, but the shared pain and mutual rehabilitation that can inspire and surround art making.
Ree's camera lingers intimately while Barbora gets to know Karl-Bertil. He talks about gang life and drug addiction and his difficult childhood. A tattoo of "Snitchers Are a Dying Breed" is inked across his chest. Where he left the stolen painting he can't remember.
But we also quickly grasp that Karl-Bertil is more than a stock criminal recast as muse. His home has paintings and prints covering the walls. When Barbora shows him her first painting of him, he doesn't just tear up. He weeps.
The movie sharply pivots midway, turning the canvas around to examine the painter — where her attraction to self-destruction comes from, how trauma has shaped her life and art. Their relationship isn't romantic but it's interdependent and reflective. "She sees me very well but she forgets that I can see her, too," Karl-Bertil says.
Any documentary about the making of art adds its own lens. And there are times that "The Painter and the Thief," which stokes an air of mystery, feels like it's leaving less convenient parts just out of the frame.
But the film also gathers force in scenes that capture Karl-Bertil's long road back, from imprisonment, addiction and injury. (The Norwegian prison system, we see close up, is vastly more encouraging than the American one.) How much does his turnaround have to do with Barbora? Maybe they met at just the right time. Or maybe before Karl-Bertil could change, he needed to be seen.