If you're taking a stroll downtown, it doesn't take long for bold splashes of color to capture your wandering eye.
Love it or hate it, street art has emerged as a popular form of public expression, taking once-blank canvases of city buildings and transforming them into large-scale works of art. And Dubuque is no exception.
Born from Voices from the Warehouse which launched in 2005, the artistic effort took its focus from a makeshift gallery space in the Millwork District to the streets in 2016. Since then, Voice's Productions has wooed a roster of local and world-renowned artists, with approximately 30 murals (and counting) adding new energy to Dubuque buildings.
Here, the Telegraph Herald photo staff offers a look at each, with some interesting tidbits surrounding the murals, the artists who created them and the locations you can find them.
To compliment that, we've also developed an online component, enabling viewers to take a virtual walk through the exhibition. We hope to continue populating it with each new mural painted.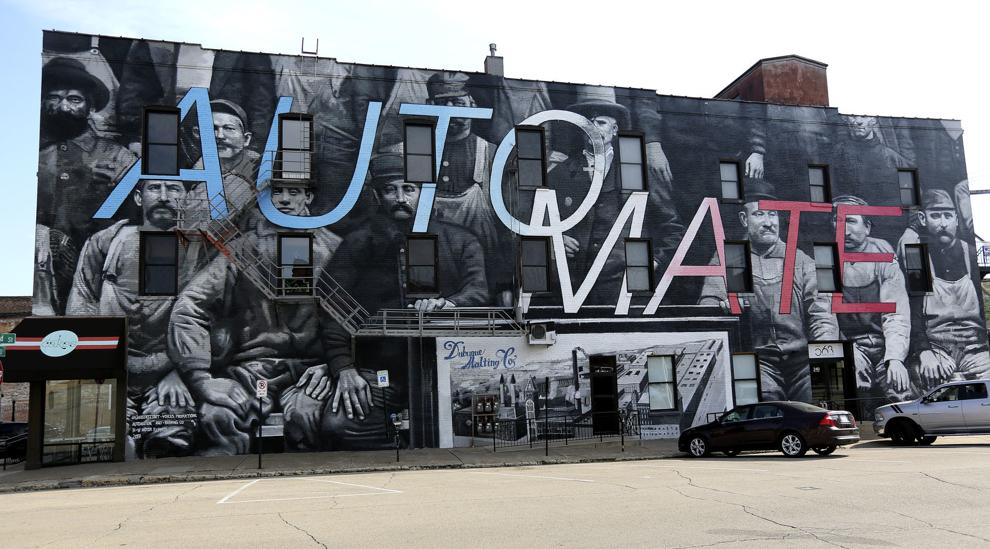 Location: Second and Main streets.
Info: Employees of the Dubuque Brewing and Malting Co. can be seen, with the word "Automate" superimposed upon the image. Three colors representing the American and French flags offer a nod to Dubuque's heritage.
Gaia's studio work, installations and gallery projects have been exhibited throughout the world, and his street work has been documented in books on urban art. He was listed as a 2015 Forbes 30 Under 30 in Art and Style recipient. While he lives and works in Baltimore, Gaia spends a majority of his time painting murals throughout the world. "Automate" is one of four murals he has created in Dubuque.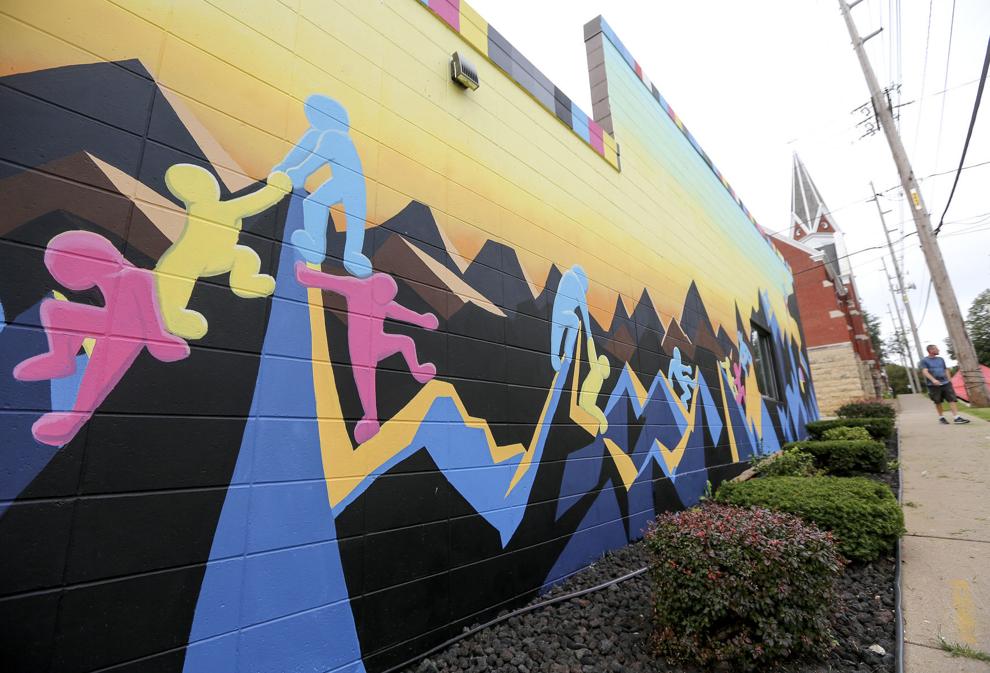 Location: 17th Street and Central Avenue.
Artist: Clarke University.
Info: Created by Clarke art students and led by associate professor of art Jessie Rebik, the mural features a colorful assortment of individuals ascending mountainous peaks. The collaborative effort came to fruition after students took part in the Voices Productions mural workshop in 2018.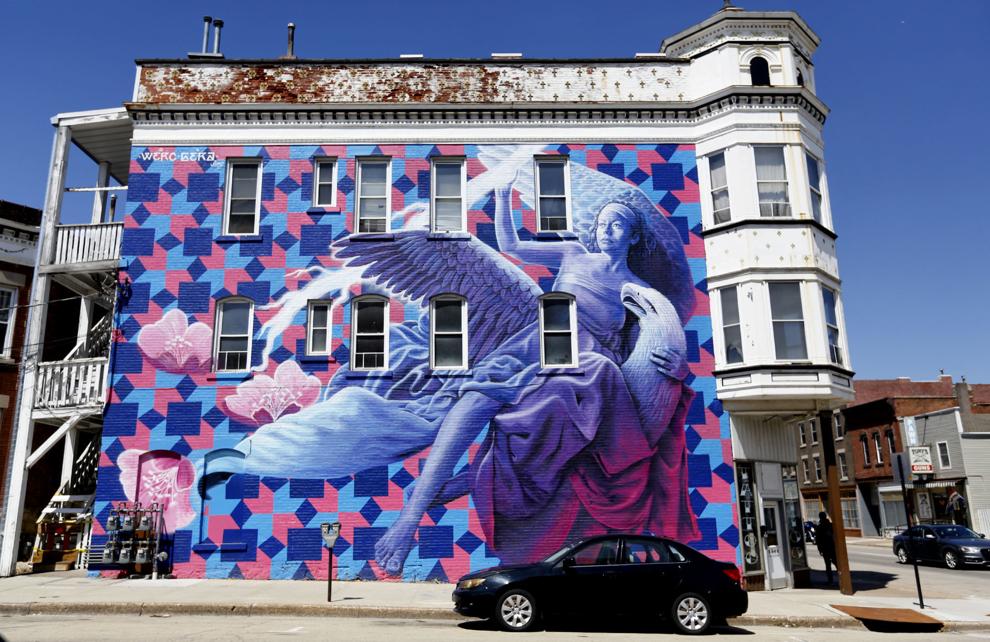 Location: 1501 Central Ave.
Info: The mural features the Goddess of Lighting, Astrape, carrying enlightenment on the wings of an eagle, a symbol of higher perspective and prosperity. Astrape is seen atop a patterned field inspired by the art of the Meskwaki tribe. A wild rose, Iowa's state flower, is depicted as a symbol of beauty and nature.
Born in Mexico and raised in Texas, Werc creates pieces are inspired by symbols, urbanization, letters, language, graffiti, border culture and nostalgic humor among immigrant cultures. His pieces can be found throughout the East Coast — most notably in Brooklyn, N.Y. He has created five murals in Dubuque — two in collaboration with Gera.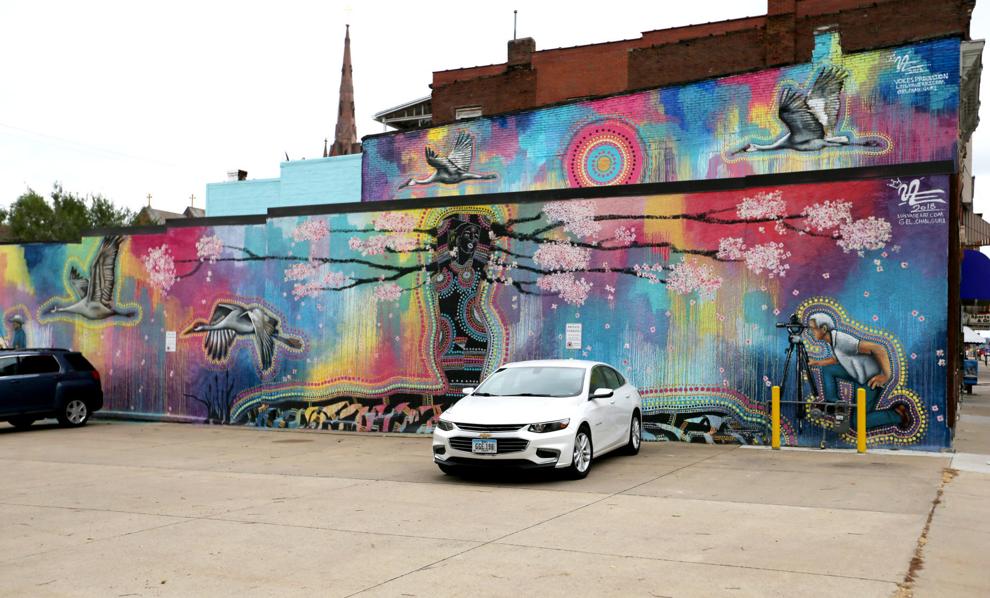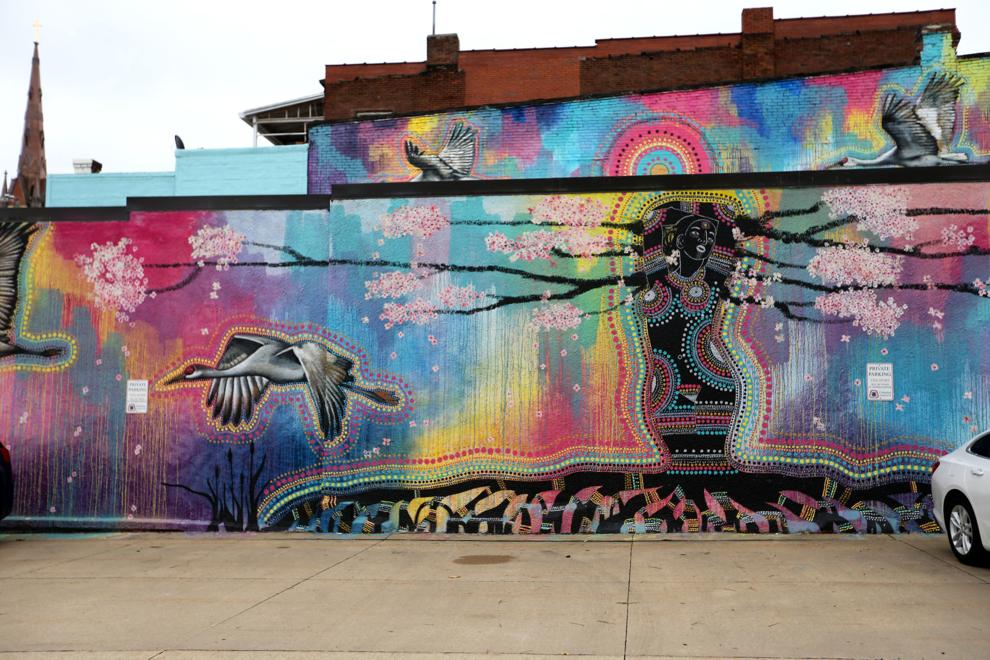 "La Pachamama Ama Dubuque"
Location: 1638 Central Ave.
Info: Splashes of color surround an image of a Pachamama, regarded as Mother Earth and a goddess worshiped by indigenous people of the Andes. A feminine form can be seen outlined with sprawling branches on a multicolored field that hints toward nature, with soaring cranes and the cosmos.
The Nicaraguan-born artist Valle exiled with his family to Miami in his early years. There, he showed an aptitude for art, going on to earn advance degrees and developing an interest in video art while continuing his progression as a painter. As one of the artists who led 2018's mural workshop, Valle has created one piece in Dubuque.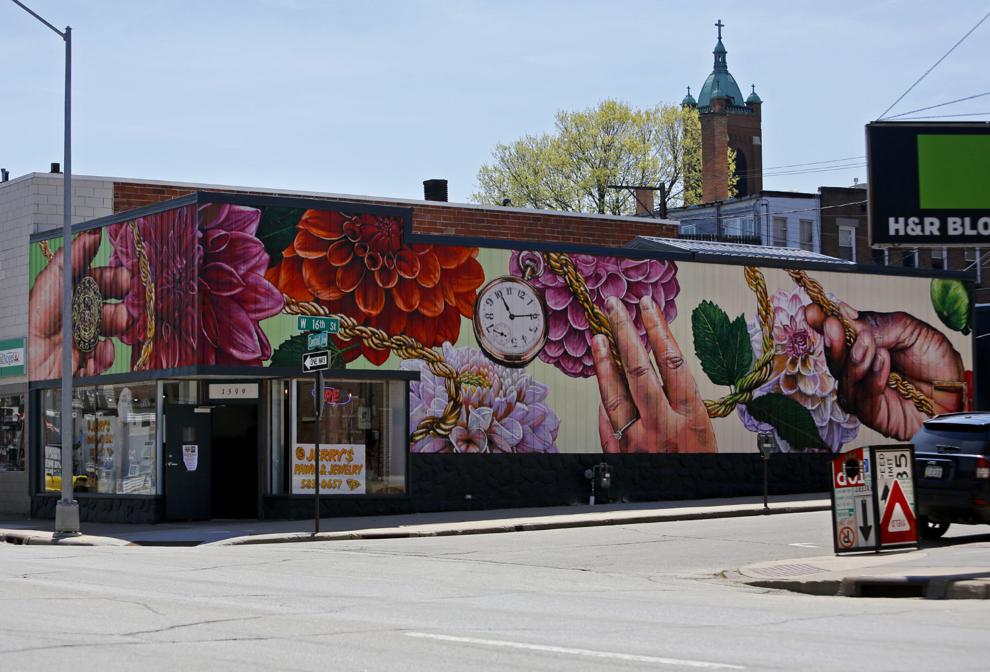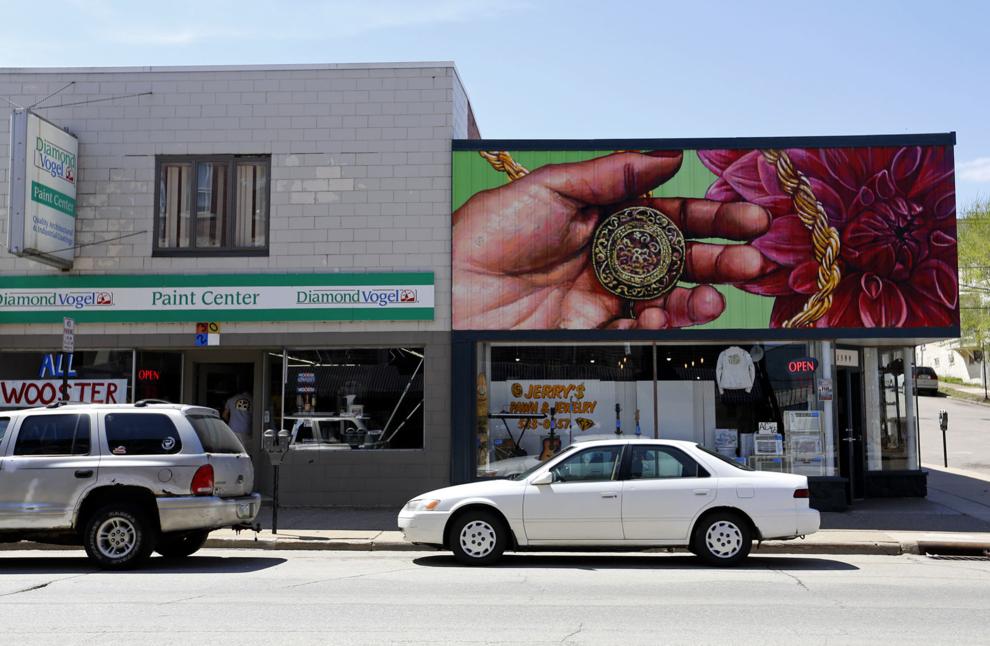 Location: 1599 Central Ave.
Info: Fingertips intertwine with a pocket watch and chain, over a vibrant array of pink and orange blossoms.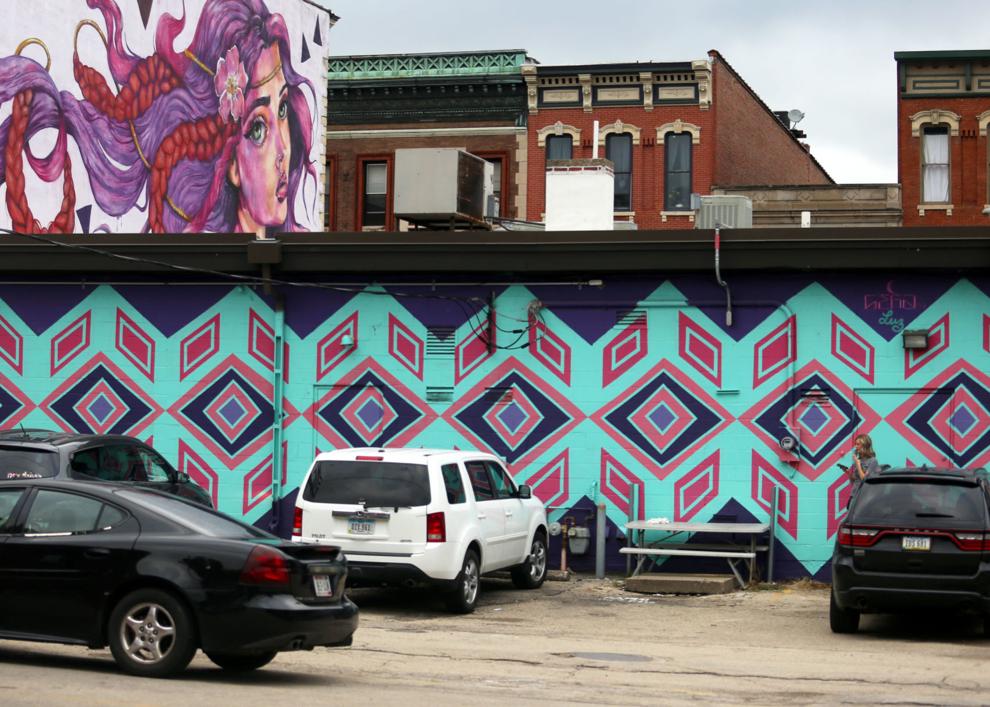 Location: Alley of the 300 block of Main Street.
Info: A pattern including turquoise, red and blue architectural shapes, dances repetitively across the side of a building.
Gera is a conceptual artist based in Brooklyn, N.Y. She uses photo, video performance, artist books and public art in her practice to "intentionally beautify and bring to light both sacred patterns and the patterns woven into our social fabric." She also incorporates "an archaeological approach to research and documenting the distinctive characteristics of each site."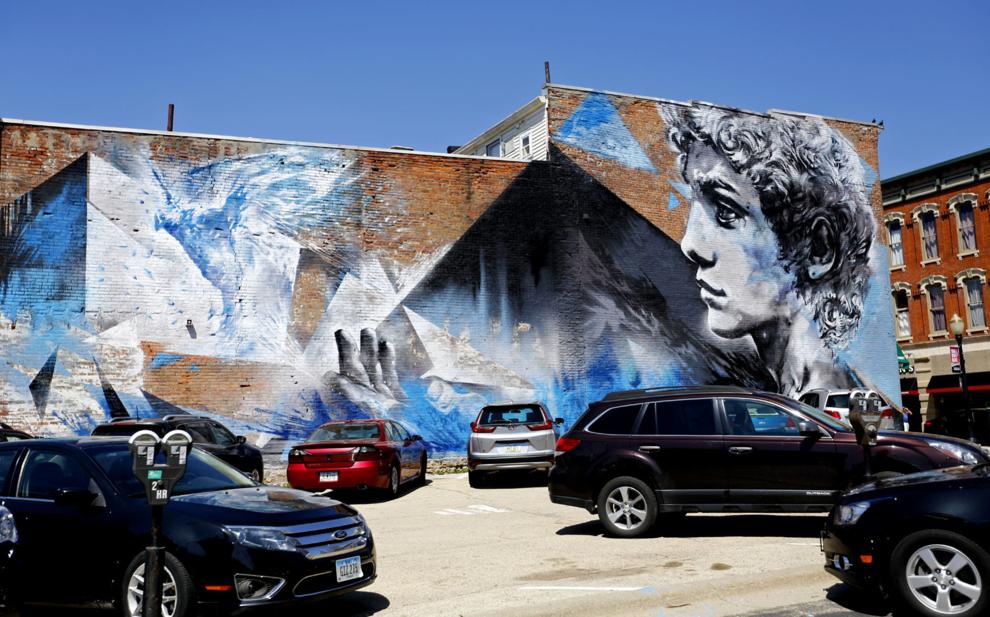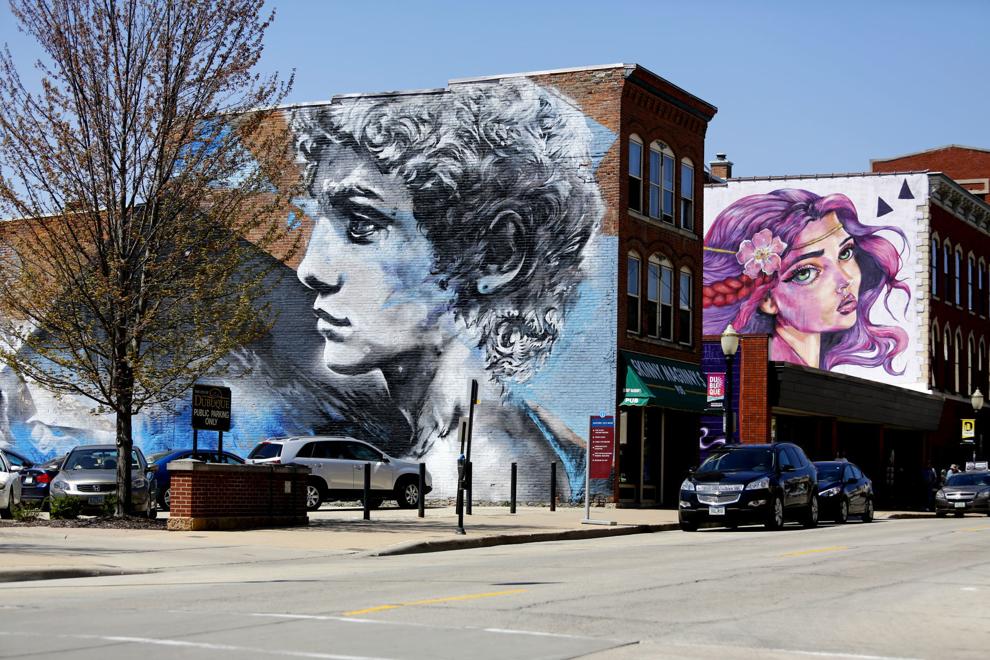 "Young David" and "Justice"
Info: A young King of Israel pensively gazes across the canvas of the side of the building, brick peeking through the paint layers, and a bird taking flight. A second mural draws similarities.
Featured among the Google Art Project's Street Art Collection launched in 2016, the Los Angeles-based artist's work has been cited as among the "Most Influential Acts of Street Art Around the World." Starfighter also has been highlighted as among the most innovative artists to watch. Growing up, she was inspired by performers on the boardwalk, caricaturists and muralists painting from her neighborhood.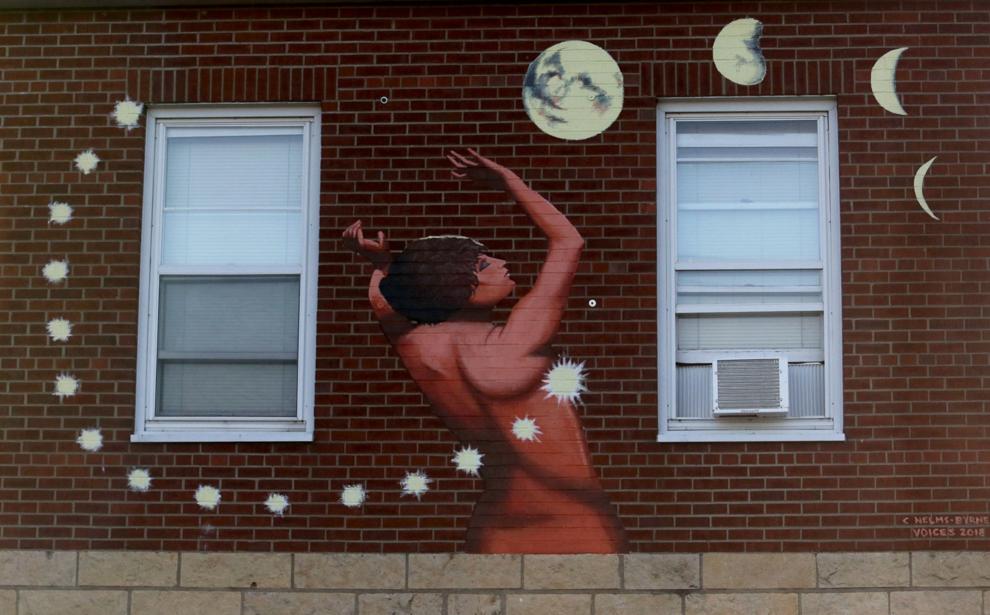 Location: Corner of Iowa and Second streets.
Artist: Cynthia Nelms-Byrne.
Info: "Moon Goddess" is the result of a workshop Nelms-Byrne attended, facilitated by Voices Productions. The Dubuque artist was struggling to find artistic inspiration after her husband of 26 years, author Robert Byrne, died in 2016. "(The workshop) reawakened my artistic desires," she told the TH in 2018, upon completing the mural that adorns the back of her downtown home. Nelms-Byrne began with a primitive drawing of a little girl throwing a ball that would bounce. She showed it to Gaia, who was staying with her while he was working on murals in town. He told Nelms-Byrne, "What about if instead of a ball, it's the moon?" "And I remembered that my name, Cynthia, is related to the moon, to the goddess of the moon," Nelms-Byrne said.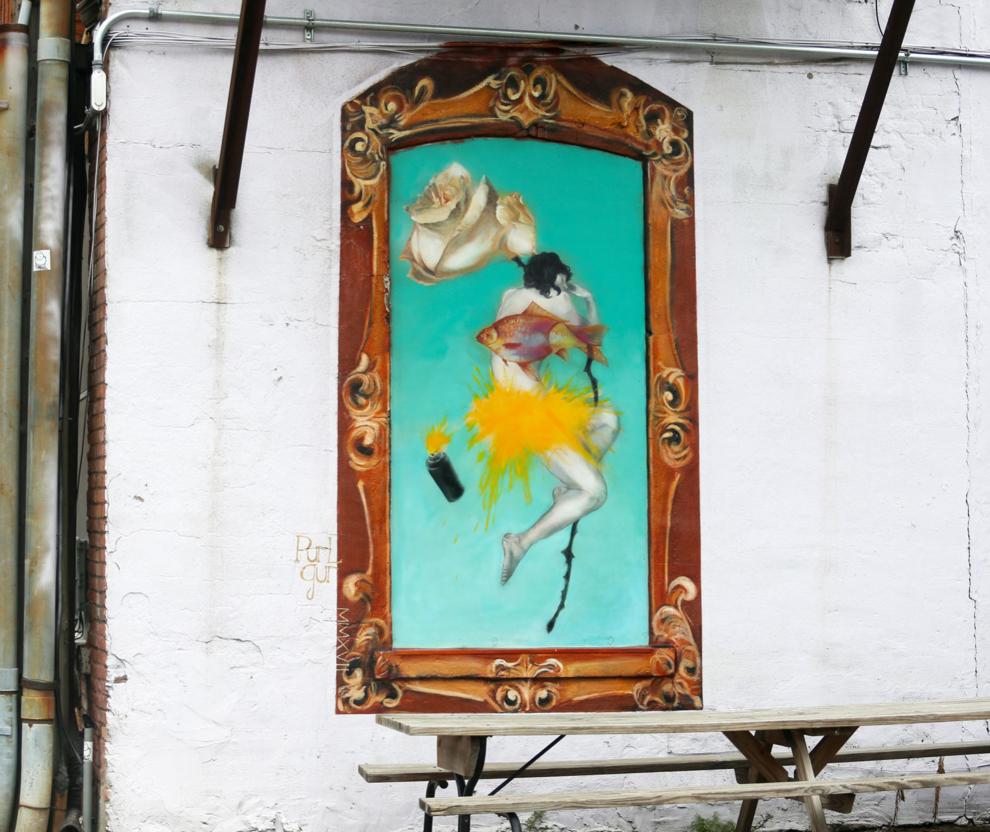 Location: Alley of the 300 block of Main Street.
Info: Painted by Voices Productions team member Wendy Rolfe, the mural represents "the space of peace and the decision for that quiet mind that is available, despite the clamoring daily distractions," according to the artist. "The spray paint can juxtaposes the label of street art with classical and traditional effects, as well as rebellious ramifications to those things established."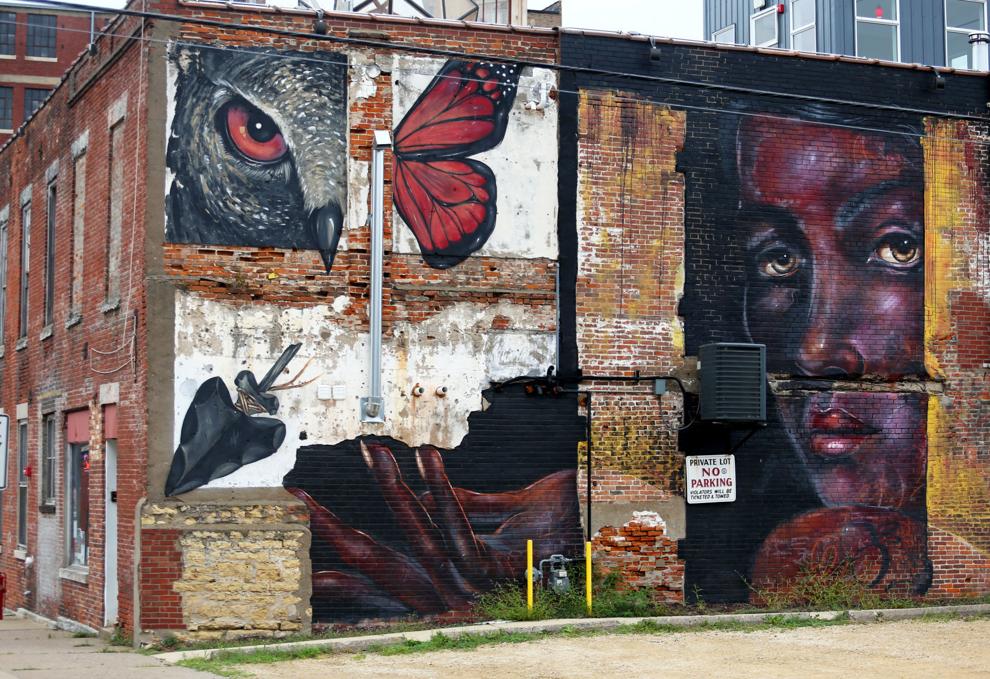 Location: 62 E. Seventh St.
Info: Adorning the side of a popular downtown Dubuque venue, the mural makes use of the aging Smokestack exterior, embellishing its worn brick with the gaze of an owl, the wings of a butterfly and a haunting figure peering outward.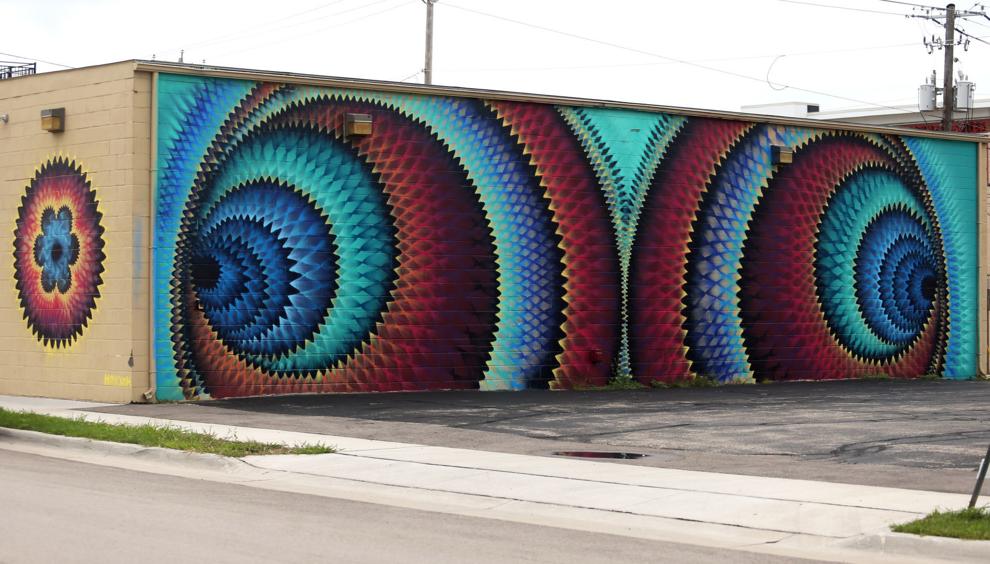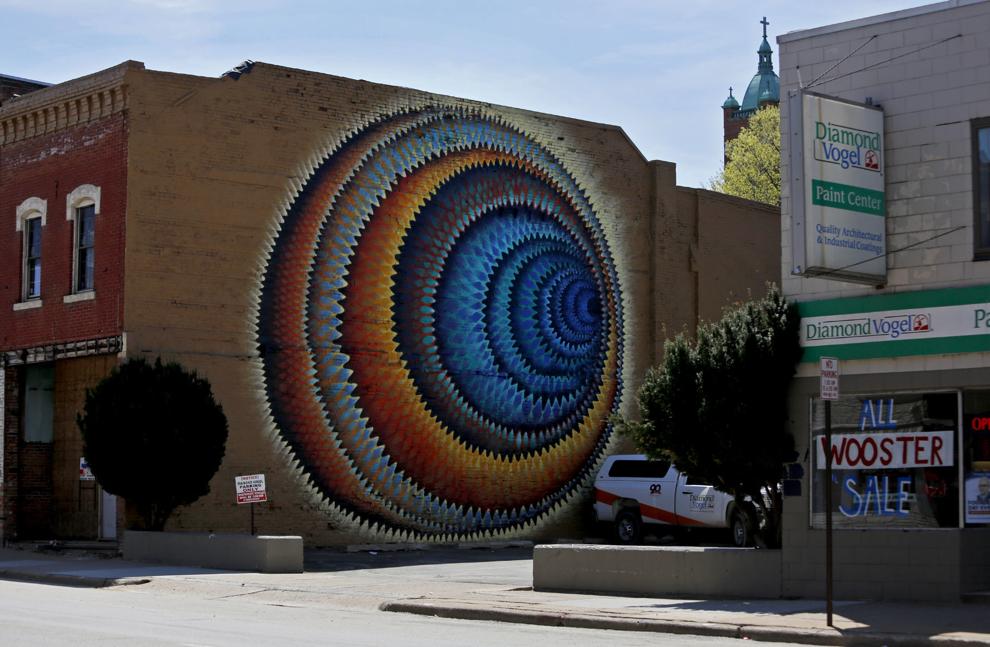 Locations: 1090 White St. and 1563 Central Ave.
Info: With like patterns found in cities across the country, the artist's goal is to depict "a different way of viewing time through a means of exploring its natural fabric. The oscillation of the pendulum paints time through gravity's natural pull, expressing how we can be pulled in one direction, when we are really meant to be going in another." His works aim to represent what is possible when the viewer lets go of controlling time and lets its predetermined course take control. The hypnotizing motions depict that everything ends in its rightful place.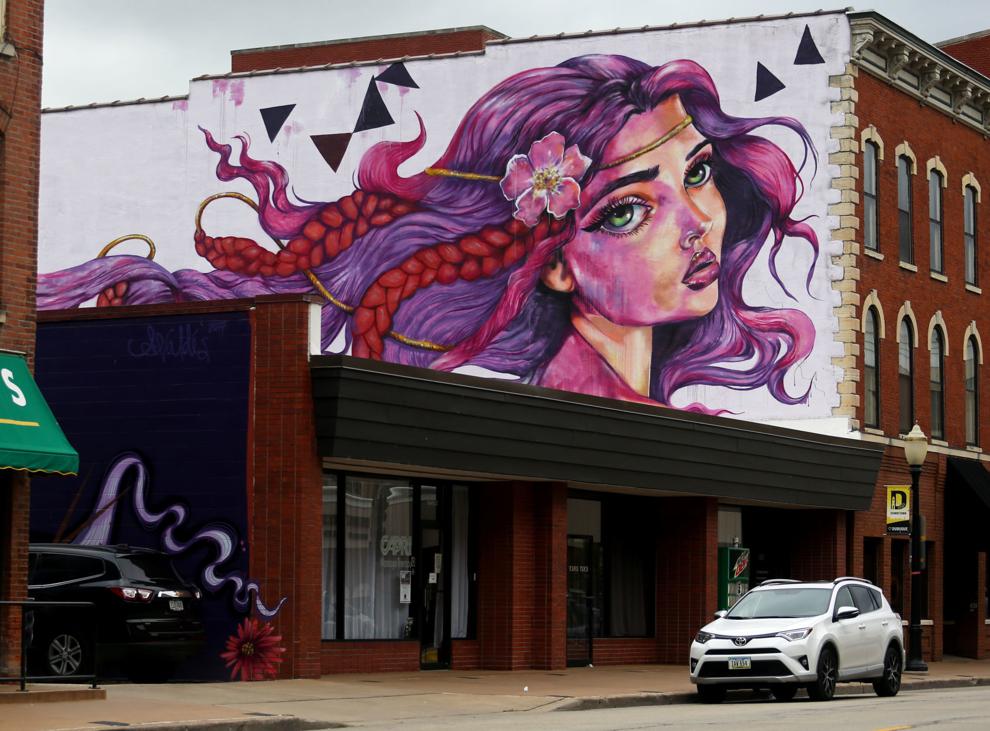 Info: Inspired by Iowa's state flower, the mural is an image of confidence. As the subject turns around, her purple hair with pink highlights and orange braids flips as she eyes the viewer. It fittingly is located along the side of Capri College, a beauty, cosmetology and massage school.
The Israeli artist's work often embodies "waves of energy moving through us all, the faces spreads all over the city watch us and over us — they are the beholder — we are their objects," according to an artist statement.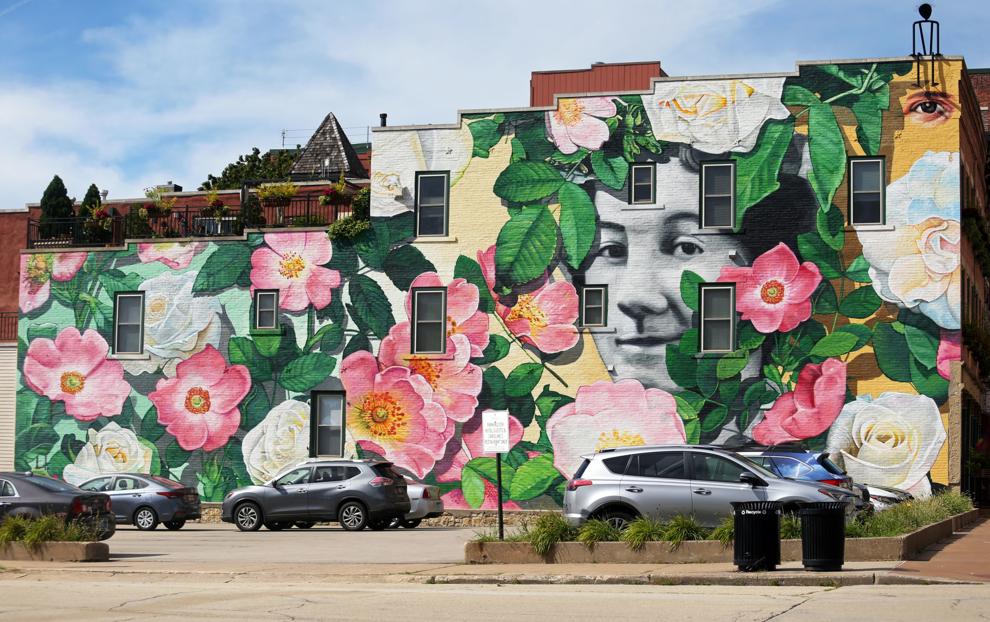 Info: Ada Hayden was the first female to receive a Ph.D. from Iowa State University. In the artist's statement, Gaia said, "The Butts family, who used to own a florist shop, requested a piece celebrating the practice of botany. This is the resulting piece produced by Voices Productions in Dubuque and features a composition populated by both the wild and domestic rose as well as the single eye of Mazzuchelli, a pioneer Dominican friar who would help establish the Catholic cathedral adjacent to this site."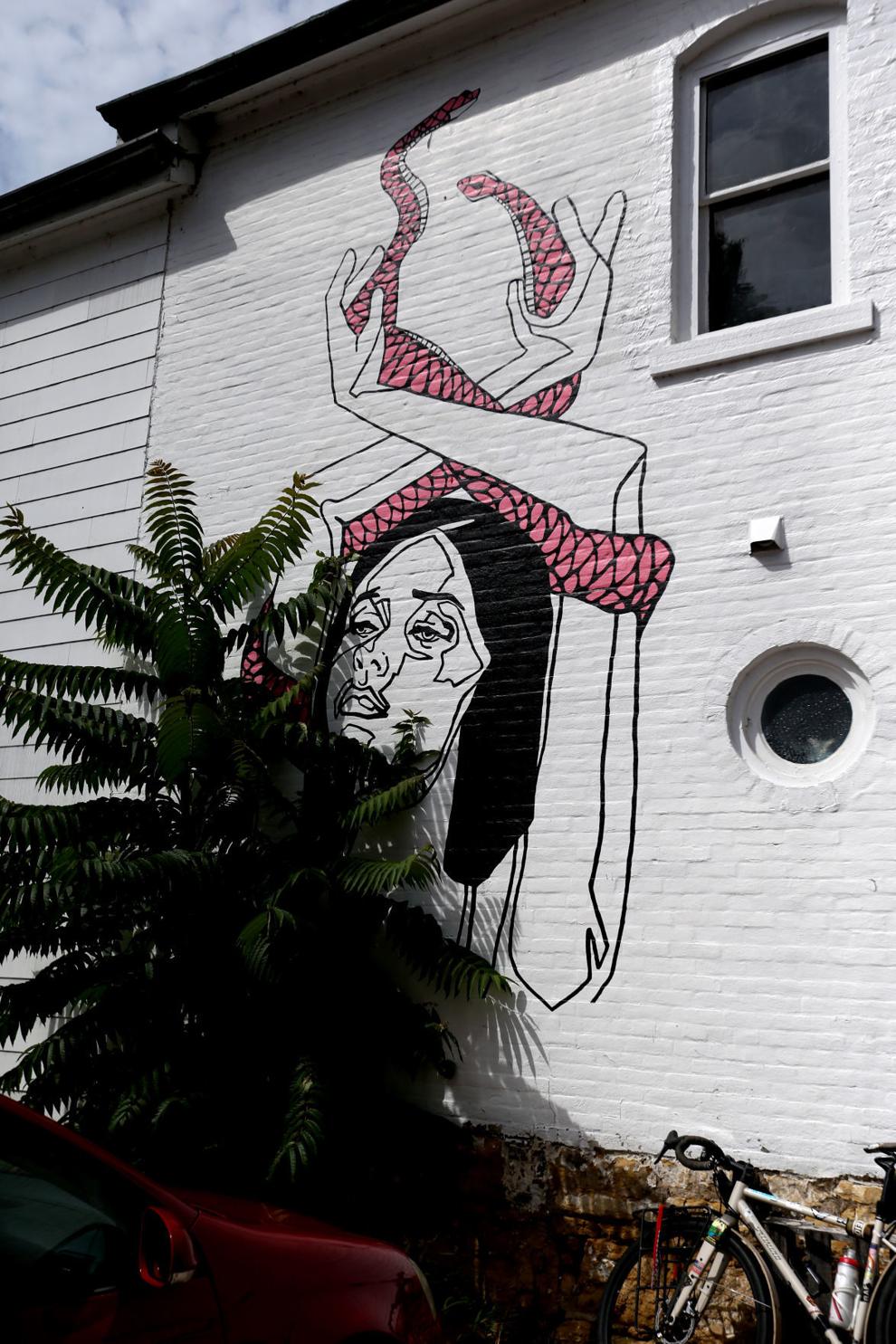 Location: South wall of Shamrock Imports, behind Monk's Kaffee Pub, 373 Bluff St.
Artist: Andonia Giannakouros.
Info: Born in Dubuque and studying studio art at Clarke University, the artist focuses her work on the human figure, using repetition to symbolize disruption, vibration and to mimic images she related to her childhood.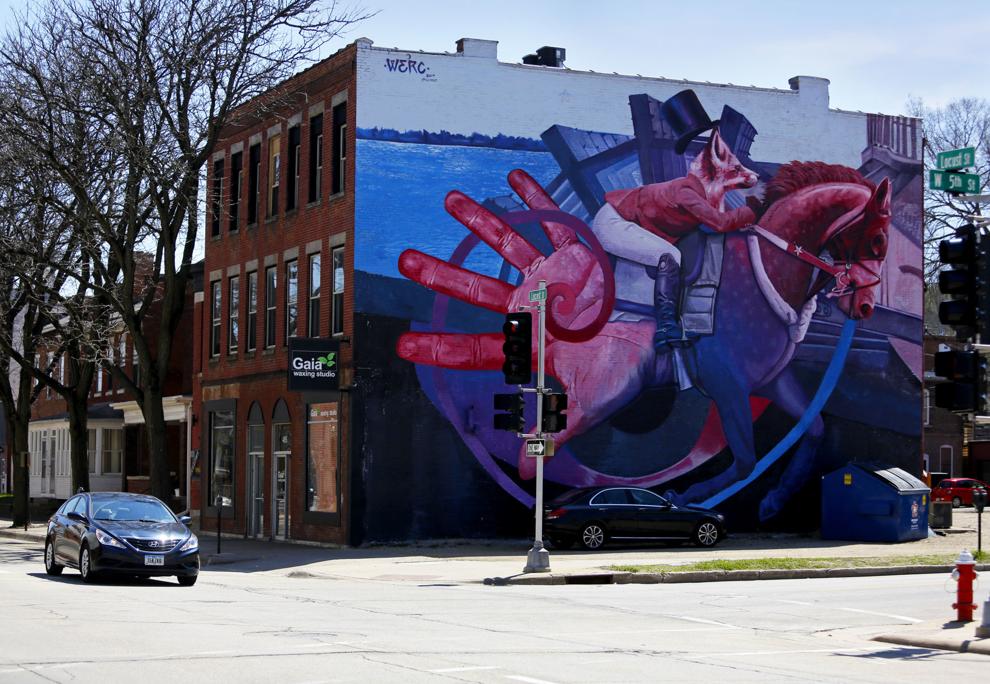 Location: Fifth and Locust streets.
Info: A fox can be seen riding a noble steed. In the background, a paddle wheel hints toward days gone by on the Mississippi River, with the two figures "riding into the future." The mural was completed during 2017's eclipse.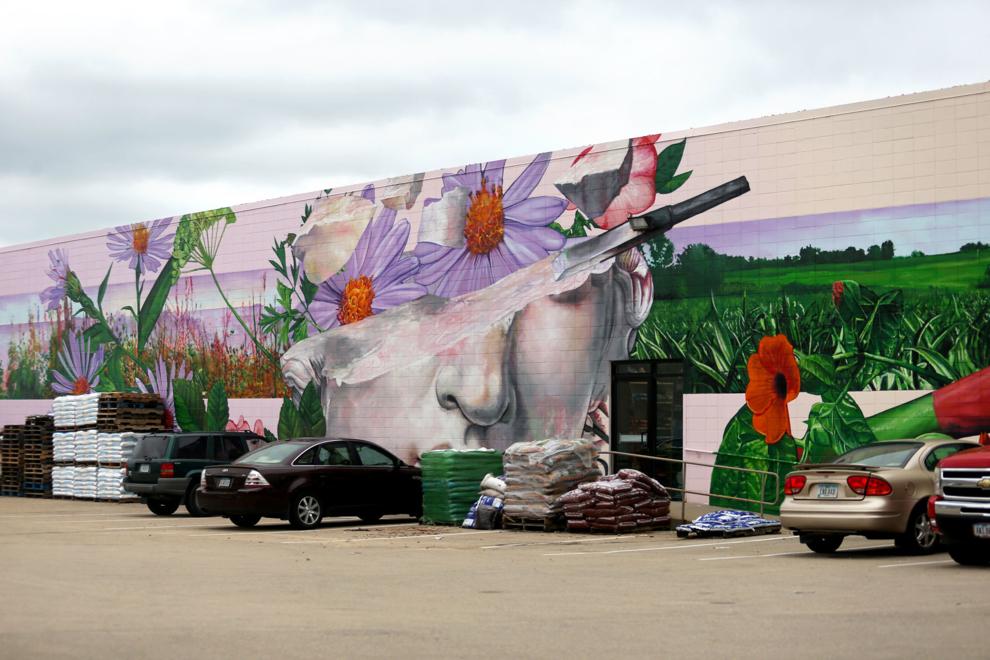 Location: 200 S. Locust St.
Info: A natural wildflower landscape gives way to an image divided, featuring a sprawling cornfield, adorning Steve's Ace Hardware. It depicts the European influence on the hemisphere from a genetically diverse environment precontact, to a monoculture post-contact. At 20 feet high and 160 feet long, it is Dubuque's largest mural.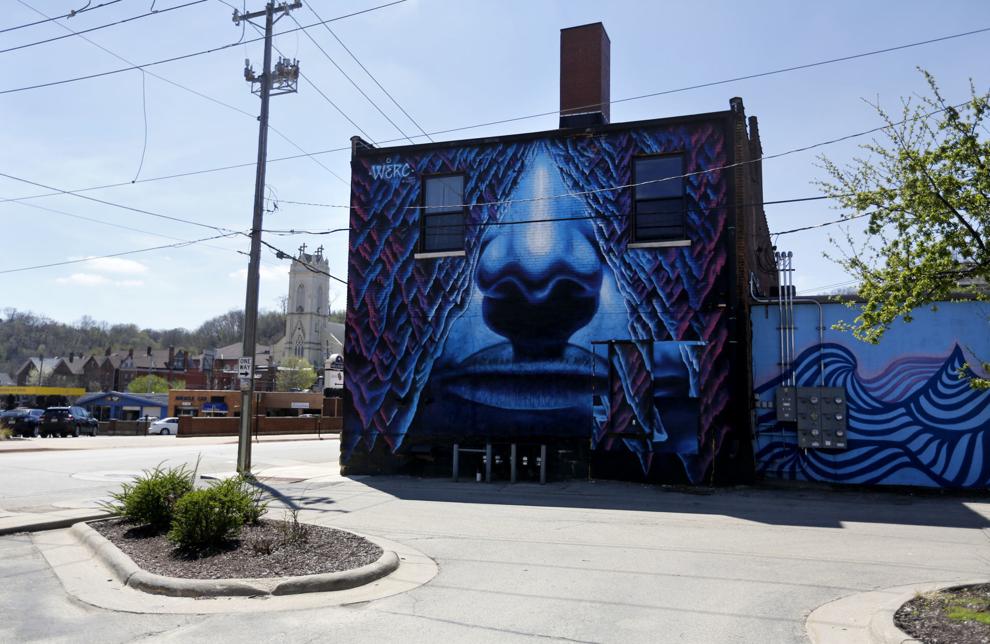 Location: Third Street alley, between Main and Locust streets.
Info: Inspired by Crystal Lake Cave as seen in the stalagmites surrounding the image of a face, the mural also makes use of the building's architectural features as windows peering into the soul.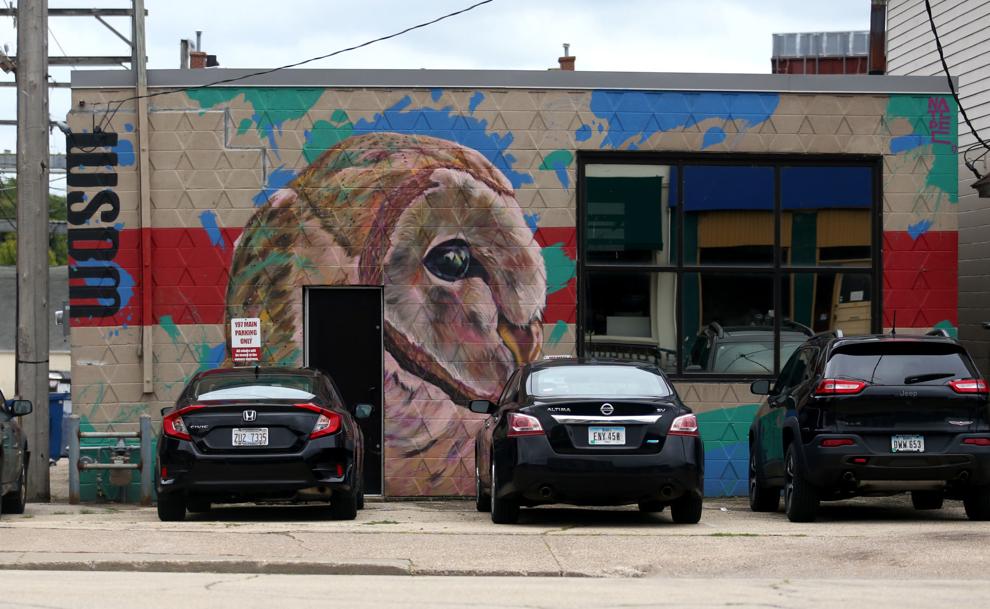 Location: Second Street, between Main and Locust streets.
Info: Incorporating the wisdom of an owl — seen in many of the artist's other murals throughout his native Florida — Dee draws influence from his Haitian background, as well as Art Nouveau, Greek art from the Hellenistic and pop surrealists. His work has been featured in numerous publications, including The New York Times, which listed him as one of 10 Miami artists to follow on Instagram.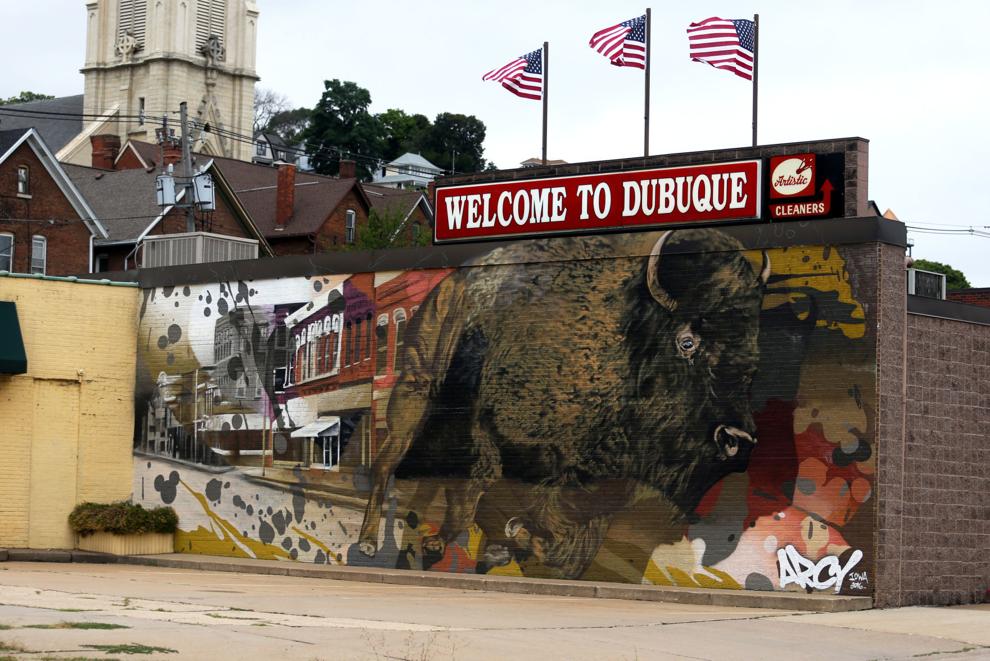 Info: A bison charges through a street scene in this mural. A self-proclaimed graffiti artist, he strives to leave an impact through his work saying, "I am constantly pushing the limits to create works that are on the cutting edge of this vibrant art form. My pieces showcase the freedom of what can be achieved with a spray paint can. Many of my works contain photo realism, while others are purely abstract. In the end, no matter what I create, I strive to make an impact on this world."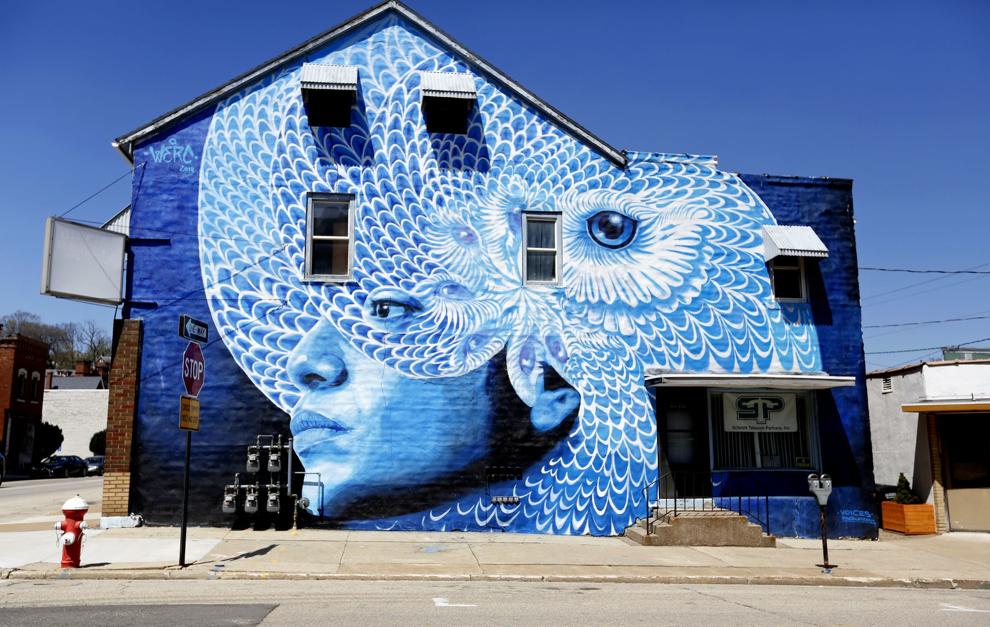 Location: 1500 Central Ave.
Info: Bathed in vibrant blue, a human figure is intertwined with an owl — a series of open eyes circling between the two. The mural is in honor of nature, with the owl representing wisdom. According to Werc, "Nature has knowledge to offer. It heightens our intuition, sharpens our vision and opens our third eye, creating a stronger bond with our environment and our surroundings."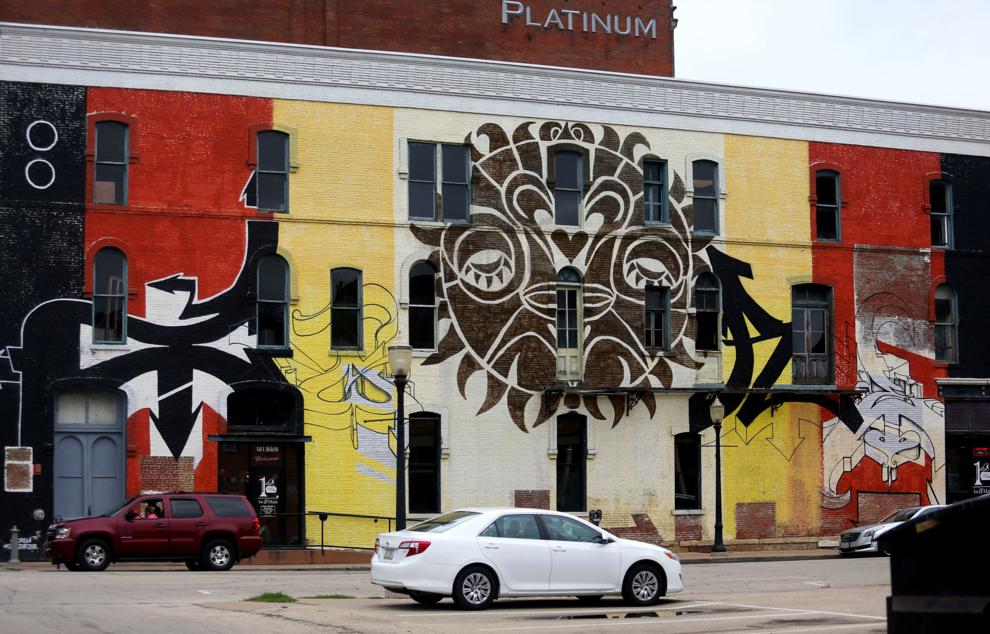 Location: First and Main streets.
Artist: Zore and ZorZorZor.
Info: A bright and centralized sun pulls focus inward almost as gravity in this mural. The collaborative mural was created by two Chicago-based street artists, drawing their influence from the graffiti art they saw growing up in an urban landscape.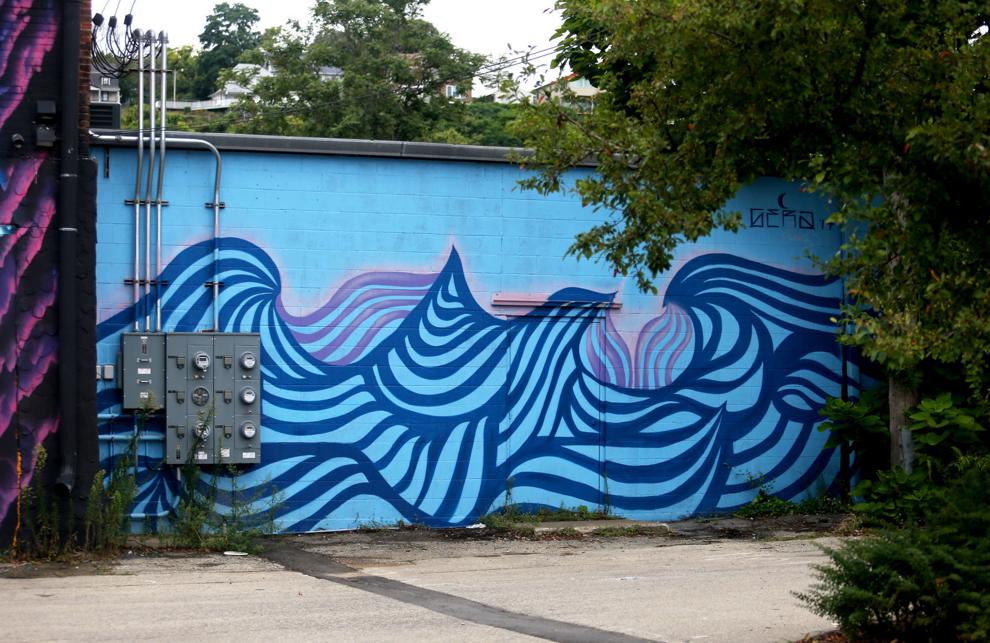 Location: Third Street alley, between Main and Locust streets.
Info: Dancing blue waves representing the nearby Mississippi River can be seen.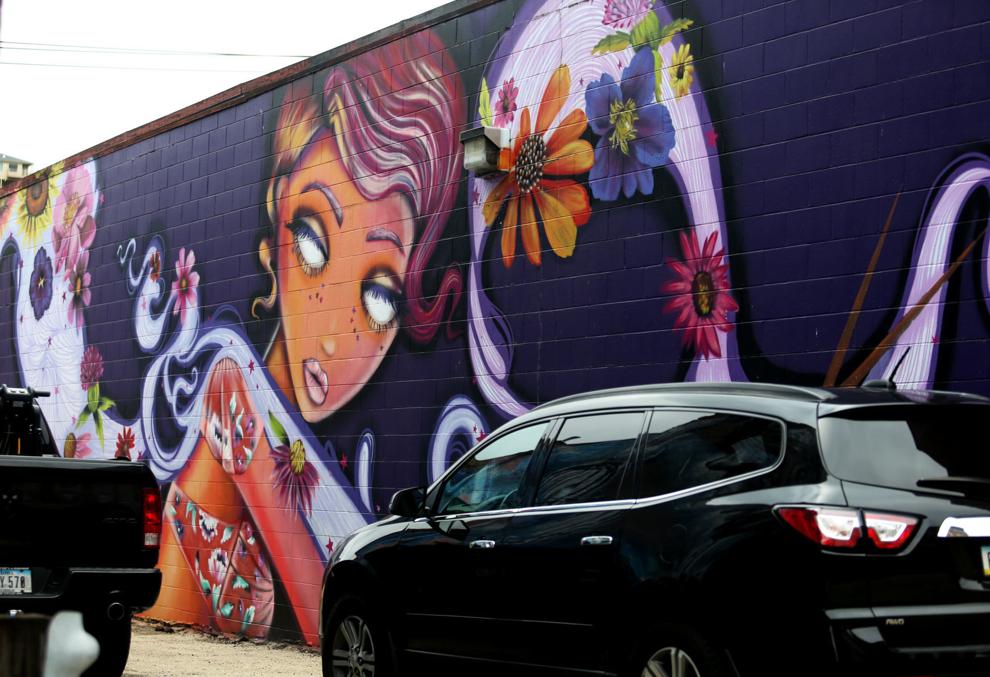 Info: Natural wildflowers native to the tri-state were the inspiration behind the mural, tying in a vibrant style to help brighten the space behind Capri College.
The Miami-based artist combines a macabre-style and female identity, primarily using "the dolls in her head" as her muse. Valdes had her first solo exhibition at 18. Now 27, her work can be seen throughout the world.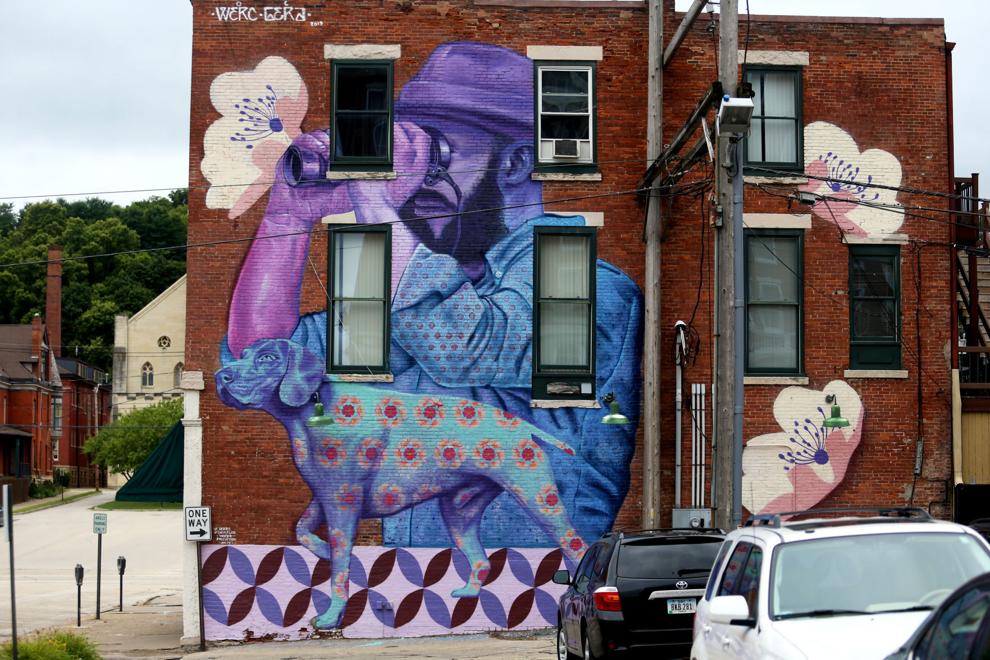 Location: Second Street alley, between Locust and Main streets.
Info: The mural celebrates the outdoors, with floral patterns, the state flower and a dog.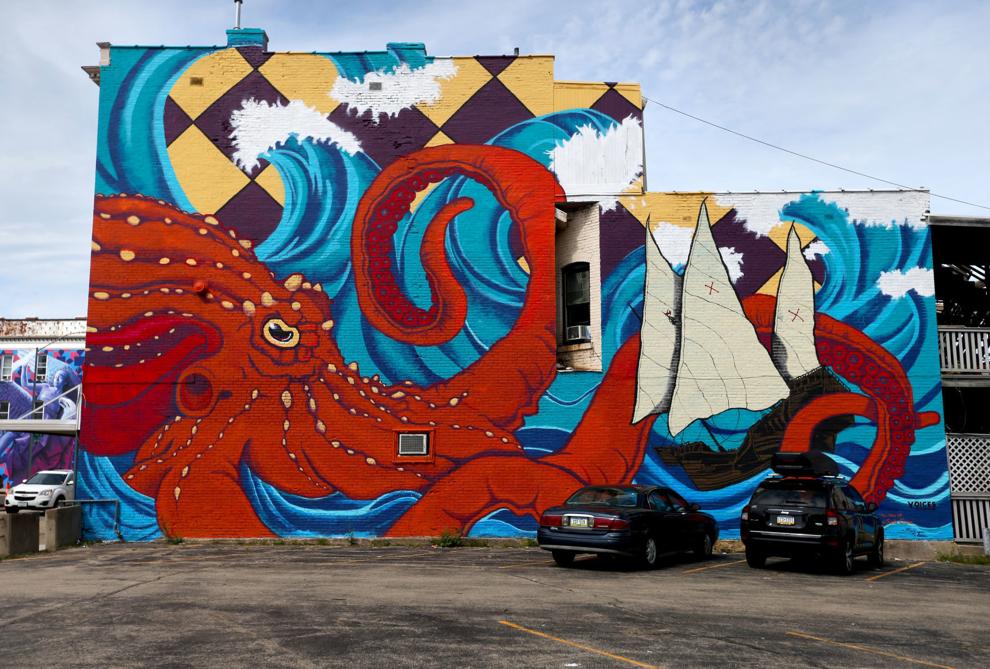 "The Fate of the Santa Clara"
Location: 1460 Central Ave.
Info: The mural depicts an octopus grasping the Santa Clara, one of Christopher Columbus' ships — more commonly known as the Nina. The bright orange octopus rises from a sea of huge, blue waves. Around the upper edge, there is a purple-and-yellow diamond pattern, similar to bathroom tile. In an interview with the TH, Turner said it is intended to recall childhood memories of splashing around in a bathtub playing sea monster. Though the piece's deeper meaning is political, for the common passerby, Turner wanted to create something beautiful. "I like the idea of painting monstrous things at big, monstrous sizes," said the Dubuque artist. "Large art takes you in it."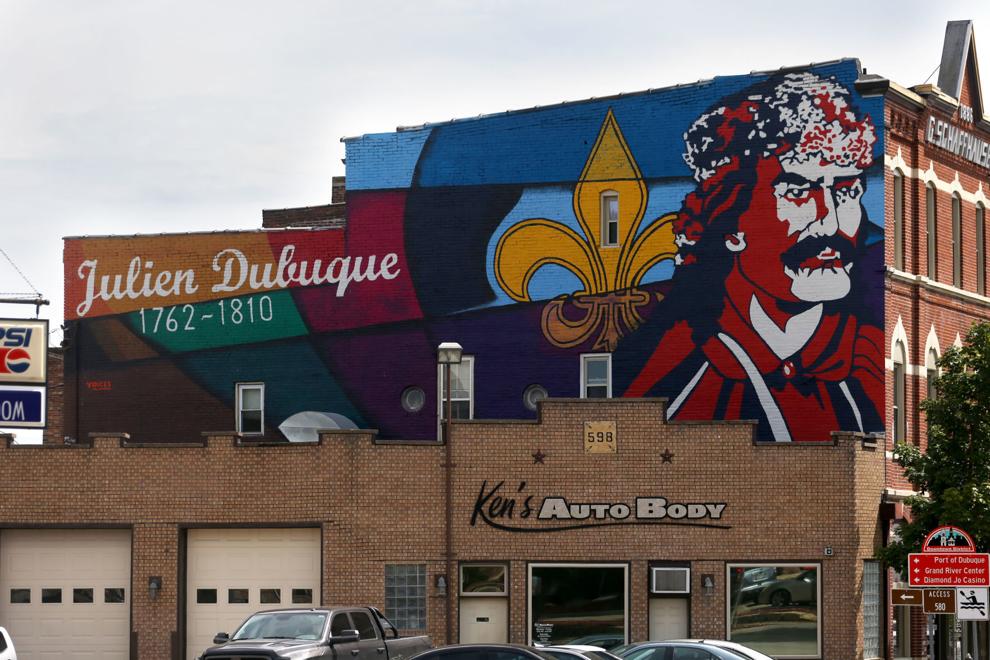 Location: 576 Central Ave.
Info: In an ode to Dubuque's founding father, an image of Julien Dubuque can be seen, as well as a French fleur de lis and Dubuque's lifespan. The artist aimed to offer a modern spin on a locally iconic image.
Info: In a tribute to her Irish roots and Dubuque family, Mulgrew's mural captures a cozy still life scene complete with a book, a flower, a smoldering cigarette and a glass of whiskey.
Voices Quotation Series
Last month, a spin-off of the mural project emerged, with the Voices Quotation Series. These pieces feature literary and philosophical quotations, strategically located in downtown Dubuque.
"The Jack Kerouac is one example," said Sam Mulgrew, mural project director for Voices Productions. "'Nosce te ipsum,' is the other and the Latin version of the Greek phrase meaning, "know thyself." This phrase was inscribed on the temple of Apollo at Delphi and has been referenced in all sorts of literature."
Here's where to find them:
• "Kerouac Quotation," 13th and Elm streets.
• "Nosce te ipsum," 325 W. First St.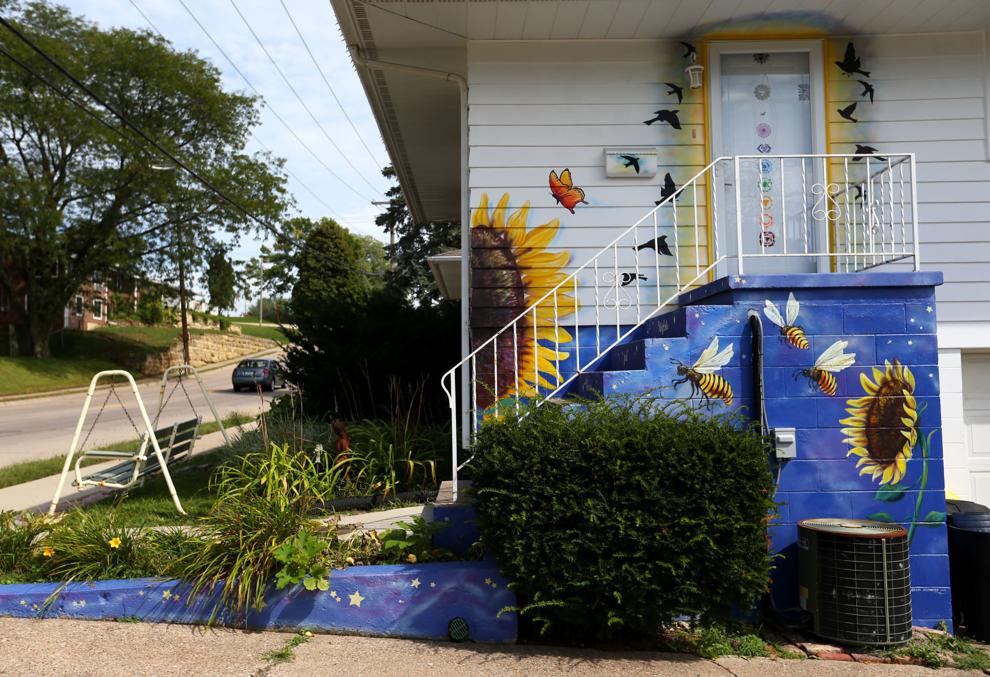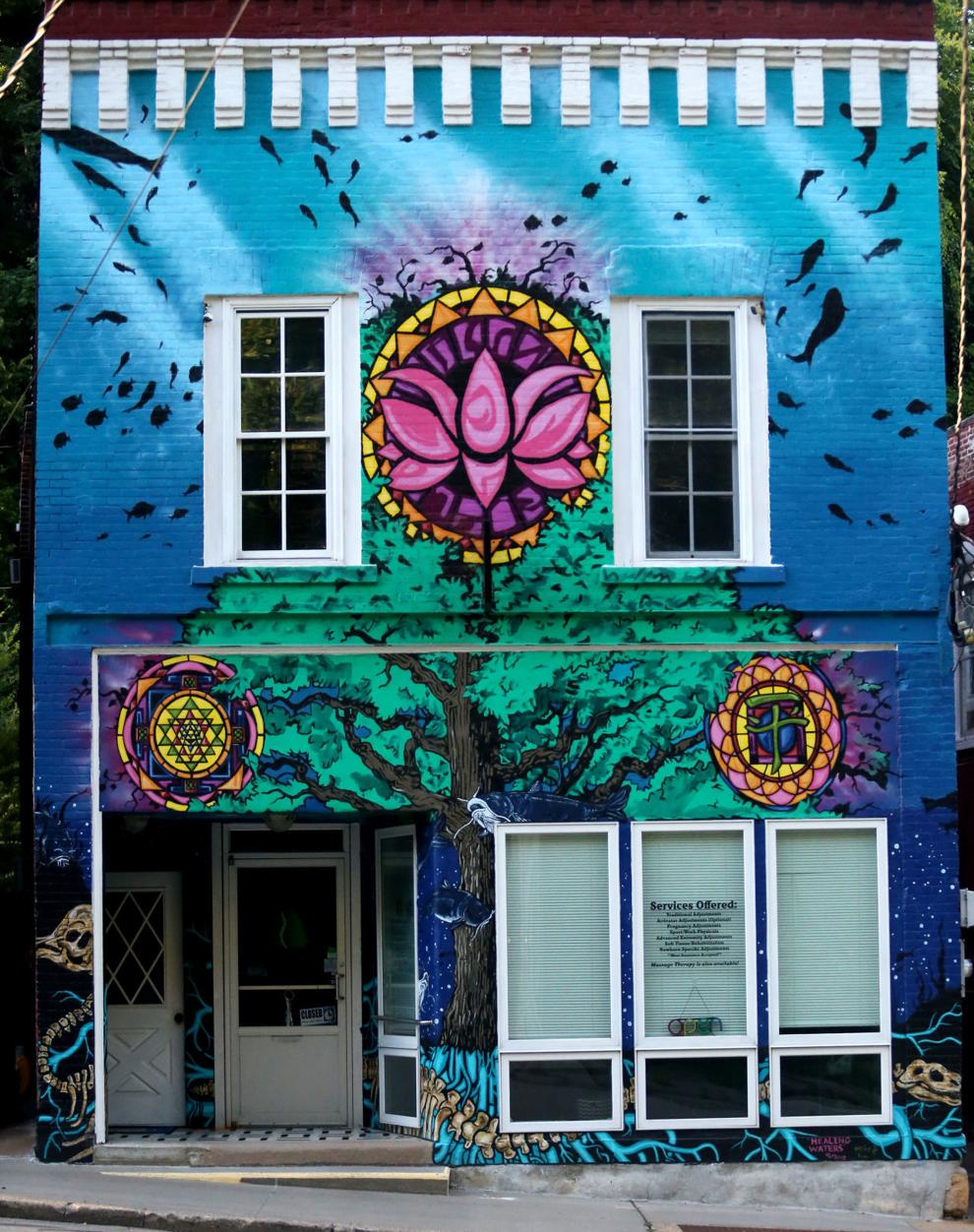 See the work of Voices Mural Workshop grads
• "Nature's Remedy," 2822 Pennsylvania Ave., Cheryl Hermansen.
• "Healing Waters," 537 W. Eighth St., Miles Turner.
• "Reflection One," 99 Main St., Justin Foust.
• "The Inevitability of Land," 530 Loras Blvd., Sara Schroeder.