Tom Flynn remembers 50 years ago when the Mississippi River inundated Dubuque.
Flynn, who would later become a state senator, was 10 years old at the time. He watched the destruction from the seat of his bicycle at the end of Rush Street, overlooking downtown.
He recalls watching Dubuque commercial icons -- Trausch Baking Co. and Star Brewery -- besieged by an unrelenting torrent.
"You had to see it to believe it," said Flynn, of Epworth, Iowa. "It was just an incredible view from up on the bluff as the waters came up early that spring.
"Where you used to see cars on these downtown streets, now you saw rowboats, canoes and small, flat-bottom boats. You shook your head in amazement. Everything was underwater. The shock of the event was considerable -- experiencing a flooding event that had never before been seen to that magnitude. It was a life-changing event."
Nowhere on the flooded river was there more drama and flurry of activity than near the Julien Dubuque Bridge, the only crossing point left on the Mississippi River between La Crosse, Wis., and Davenport, Iowa.
Water lapped at the road leading to the bridge, but the roadway was kept open after crews put down metal grids to extend its approach and elevate vehicles enough to get through.
"It took a superhuman effort, Herculean," said former Dubuque Mayor Walt Pregler, 80, of the mass of people, pumps and constant sandbagging to keep Dodge Street and the bridge open. "It was a matter of life and death for those in Wisconsin and Illinois to be able to get to Dubuque for medical care," at Mercy, Finley or Xavier hospitals and get to jobs at John Deere Dubuque Works, A.Y. McDonald, the bakery and other large employers.
"At the time, you didn't sleep at night because you didn't know if your entire city would be underwater," Pregler said. "It's hard to believe 50 years has gone by already."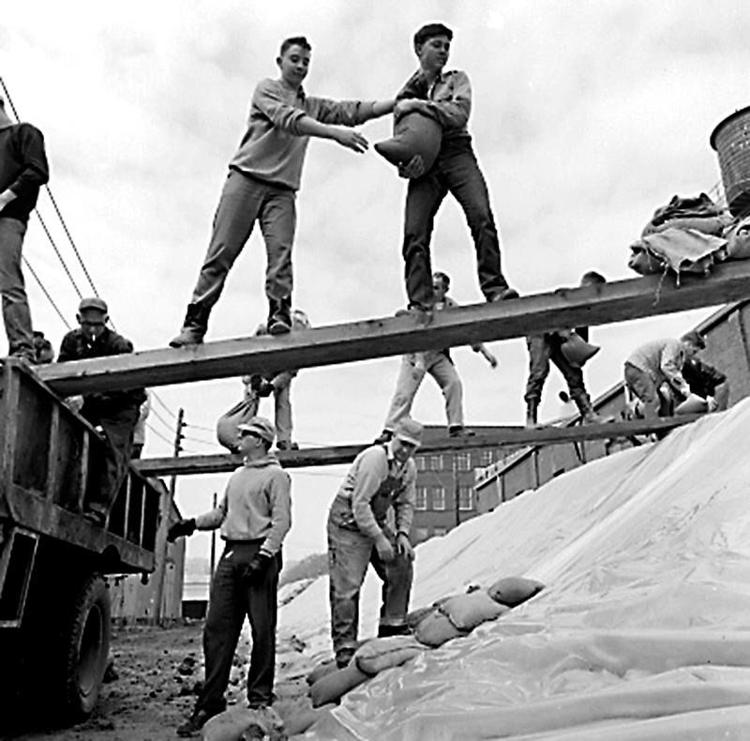 Midwest deluge
Dubuque's worst flood occurred in April 1965.
Snowmelt, heavy rains and a deep frost contributed to record flooding across much of the upper Midwest in March and again in April. A series of winter storms in March produced abundant snow throughout Minnesota and parts of Wisconsin, followed by a deluge that melted the abnormally deep snow pack, resulting in even more water rushing into streams and rivers, according to the National Weather Service.
The Mississippi River established crest records that continue to stand in many locations, including the 26.81 feet at Dubuque on April 26 and 25.4 feet at McGregor, Iowa.
Water poured into Dubuque at a rate of 3 million gallons per second, washing away businesses, destroying homes and wreaking havoc with infrastructure. Depths of water reached 7 feet on some streets.
Schools closed as dozens of students joined other citizens to fill millions of sandbags. The flood left the Packers, Dubuque's professional baseball team, without a home field for 41 days.
News of the devastation made international headlines.
Dan Arling, 74, of Dubuque, was stunned to pick up a copy of "Stars and Stripes" in Stuttgart-Vaihingen, Germany, while stationed with the 7th Army headquarters and see a photo and cover story on flooding in his hometown.
The flood caused more than $12 million in damage and shut down rail transportation for weeks in Dubuque.
The damage led to the eventual construction of a 6 1/2-mile long floodwall that stands 33 feet high.
Inundated downtown
Gerald J. "Jerry" Koppes still has vivid memories of the day the floodwaters invaded Dubuque.
It was late. A sophomore at Loras College, Koppes and his buddies sat in parked cars downtown listening for radio calls seeking volunteers to help along the levees. Classes were canceled so students could lend their muscle to the flood fight.
Koppes and his classmates heard that Corner Tavern at Fourth Street and Central Avenue was in trouble. The water was rising slowly to the top of the sandbags surrounding the tavern, and the pumps were fighting a losing battle to keep water out of the basement. Eventually, the decision was made to abandon the saloon to its fate.
"The pump motors fell silent shortly after we arrived in our boat and climbed over the sandbags to enter the deserted and darkened tavern and salvage whatever might still be saved," Koppes wrote in an email. "We loaded our boat quickly as water from the flooded basement was already seeping up through the floorboards."
While pushing away from the sandbags, their oar fell into the water.
"Floating aimlessly down Fourth Street over the submerged railroad tracks, we finally drifted near a (railroad) signal pole with its top sticking out of the murky floodwaters," wrote Koppes, 69. "We eagerly grabbed it and hung on until help arrived. The rescuers had been rescued. It was an adventure I haven't forgotten 50 years later."
Volunteers unite
For businesses caught in the path of the flood, the experience was a lesson in loss, fatigue and powerlessness.
The flood forced the closure or relocation of some two dozen businesses.
Dick Hartig, CEO of Dubuque-based Hartig Drug Stores, was 15 years old. Fortunately, his family's downtown store escaped largely unscathed.
As floodwaters approached the doors at First and Locust streets, the teen and his Wahlert High School classmates were enlisted as sandbaggers. The job turned out to be a little more demanding than algebra -- but more fun, too.
"We were one of the lucky ones," Hartig said. "We stayed up pretty much all night to keep the store open by pumping water out of the sub-basement. We had sandbags piled up 3 feet high."
Water surrounded the drug store, except for the north side.
"It was a day of that, and then the water started receding," Hartig said.
He recalls the startling view from the floor of Trausch's bakery.
"Looking out the windows of the bakery, your eyes were even with the water. It was strange," Hartig said.
He said he will never forget the electric atmosphere and the sense of purpose that resonated across the city.
"It was dramatic, but it was more fun than anything," he said. "Getting out of school and feeling useful was the fun part. You were really tired. You worked long hours through the night. It just felt like something neat and community-building and important."
Hartig also remembers the good food brought in by the American Red Cross.
There seemed to be plenty of provisions to go around for the 3,500 volunteers, who filled an estimated 400,000 sandbags in Dubuque and another 100,000 in East Dubuque, Ill. According to the April 26, 1990, edition of the Telegraph Herald, the hungry volunteers consumed 80 cases of soft drinks, 900 gallons of coffee, 6,200 cartons of milk, 22,000 sandwiches, 5,200 hot meals and 19,000 candy bars.
When the river crested April 26, Hartig said there was a sense of victory.
Buildings saved and lost
Jim Helling, 81, recalls his father raising a flag over the dike at 83 Locust St. in front of his dry-cleaning business after he and about 150 volunteers waged an eight-hour battle with floodwaters.
According to TH Media archives, the motor burned out on one of the pumps between the buildings that made up Artistic Cleaners. Water seeped behind the dike, causing it to fall apart.
Helling's father, Victor, sent out a plea for help and was met with a surprising response.
"Within 10 or 15 minutes, people started running in here from all over," his father told the TH at the time. "I didn't know what was going on."
A call had gone out over the radio that the business was in serious trouble. Help arrived in the form of Red Cross volunteers, police and National Guardsmen.
Without their help, Helling doubts the family would have been able to save the business.
"You wouldn't believe the volunteer help, including people who had lost their place, who couldn't salvage it," he said.
Both he and Pregler also recall floodwaters stymieing firefighters from responding to a blaze at the old Fischer Cold Storage Facility near where Grand Harbor Resort & Waterpark now stands.
Firefighters responded by motorboat and used a pump to spray floodwaters onto the dying fire as the building burned, encircled by 5 to 6 feet of water.
Pregler said a firefighter used his breathing mask to dive underneath the water to get to a fire hydrant.
Birth of a 'river girl'
While most recall stress and devastation, Elmer Harter remembers April 1965 with a fond affection.
Elmer, 80, worked at the Sears store located where Hy-Vee now stands on Locust Street. He remembers grueling days of mopping water in the warehouse.
Water rushed in faster than he and others could keep up. Finally, after a couple of days, they gave up and focused on successfully keeping the water out of the store and moving inventory to higher, dry ground.
The river turned the store into an island. In the midst of the commotion, Elmer received a phone call from Mercy Hospital. His pregnant wife was in labor.
A photographer captured him walking along a makeshift dock of planks spanning the store's submerged parking lot to a dry area where his car was parked.
"I just said, 'I got to go! I'm having my first kid!' and out the door I ran," Elmer said. "Seeing her -- my daughter Angie -- at the hospital was a pleasant surprise. I was happy to get out of the floodwaters for a day or two and be with my new family."
Angie Harter was born April 28, 1965.
"And I've been a river girl ever since," she said with a laugh. "My parents have always had a boat. I guess it is ironic I was born during this big river catastrophe and essentially grew up on the river."
Indeed, not everything was doom and gloom, Pregler said. Interspersed among the frustration, fatigue and loss were moments of levity.
To cut the boredom and take minds off the immense flood effort, Pregler recalls former Dubuque Recreation Department Director Dick Slattery organizing late-night coed softball games for college volunteers in the middle of Locust Street.
"There was a group of college men housed at the old American Legion, where the Shot Tower Inn is now," Pregler said. "In the event there would be an emergency break or leak in the dike, they would have ready and willing muscle available to sandbag and help prevent any further damage. They had to have something for them to do, so Dick Slattery enlisted some of the young ladies from two of the colleges to come down and play."
Reining in the river
The flood brought the city together, leaving an indelible spirit of resilience and communal strength and fellowship, Pregler said.
And for those who fought the good fight, left behind was a hope and hunger to rein in the river, said Pregler, who was elected mayor the following year and lobbied congressional committees for federal funding for the floodwall.
Dubuque secured $150,000 in the fall of 1966 to justify and plan for its construction, with the help of testimony from officials of the Dubuque Packing Co., the bakery and chamber of commerce, city administrators and engineers, and former Iowa U.S. Rep. John Culver. Residents stood with Dubuque leaders in obligating the city for $1 million of the $12 million cost to complete the wall in 1973.
Now turned into a stylish grassy walkway lined with attractive amenities and named in Culver's honor, the wall ensures the city likely will never again face devastation like that in 1965, Pregler said.
The system of levees developed along the river since the flood lets the city divert excess water to designated detention basins.
The floodwall -- able to withstand the deluge of a once-in-five-millennia storm -- is inspected by the city twice per year, and the Army Corps of Engineers also evaluates it, said Dubuque Public Works Director Don Vogt.
There has never been a breach, and the city has several contingencies in place if it does, including backup generators at four permanent pumping stations at Hawthorne Street, the Ice Harbor, Bee Branch and Maus Lake, said city Public Works and Sewer Maintenance Supervisor John Klostermann.
The city also now has a better supply of temporary flood-control units, including 20,000 square feet of rapidly deployable, earth-filled flood barriers, 10,000 sandbags and 10-inch portable pumps.
Said Pregler: "Trust me, I sleep much better now."