Dubuque Police Chief Mark Dalsing didn't know what to expect in 2020 when it came to crime.
Business closures, indoor capacity limitations and stay-home recommendations related to the coronavirus pandemic upended the normal routines of Dubuquers.
Would the "new normal" of COVID-19 alter criminal behavior in the city?
"As we watched it through the year, looking for any trends, we just weren't seeing anything that we could trace," Dalsing said. "Then, when we finally got it down on paper, some of it made a little bit more sense."
As Dalsing examined the rates of what authorities categorize as "Part I" crimes, he saw a pattern that suggests restrictions on movement and activities prompted by COVID-19 influenced the incidence of certain crimes.
Crimes against persons grew by 40.5% in Dubuque during 2020, while the incidence of other crimes remained relatively static or fell.
"Most of us would agree that the fact that (during) three-quarters of 2020, people were stuck inside or mostly inside probably caused a lot of issues and decreases in other issues," Dalsing said. "We saw decreases in thefts and other property crimes. Some of that is just from the fact that people were stuck inside.
"We went up 13% in domestic violence calls. That potentially impacts the aggravated assaults and potentially impacts the sexual assaults. It leads to the question, 'Were people just tired of being in the same space with one another for that extended period of time?'"
Dalsing said he believes one aspect of life during the pandemic had little to do with the incidence of crime.
"We've never seen anything to indicate that (wearing) masks has done anything one way or another," he said. "I'm sure it probably put cashiers a little more on edge at the beginning because they weren't used to seeing people in masks, but I can't say that we saw something specific that said masks helped criminals."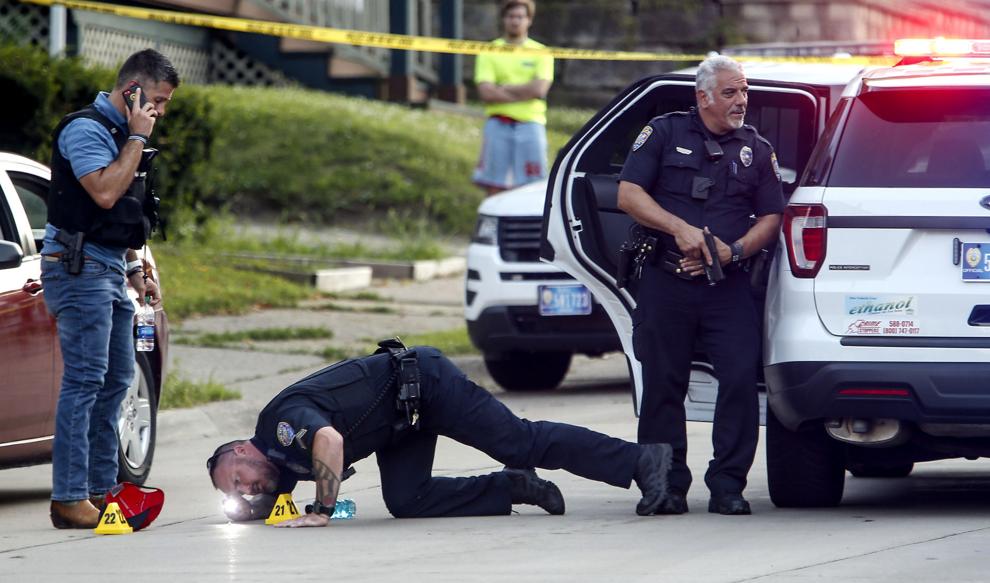 TALLYING INCIDENCE OF LOCAL CRIME
The Uniform Crime Reporting program used by law enforcement agencies divides offenses into two groups.
Part I offenses are the most serious. They include crimes against persons, such as murder, sexual assault, robbery and aggravated assault, and crimes against property, including burglary, theft and theft of a motor vehicle.
"We had had four years of total decrease in Part I crimes, so we were hoping we could continue that trend," Dalsing said.
Instead, incidents of these crimes rose very slightly, from 1,509 in 2019 to 1,512 in 2020.
"We actually went up by 0.2%," Dalsing said.
A deeper dive into the numbers shows that incidents of crimes against property, the category that includes burglary and theft, dropped 5.6% from 2019 to 2020.
"People were locked in their houses a lot, and we saw a decrease in theft," Dalsing said. "One of our biggest categories of theft is retail theft, or shoplifting. Stores were closed, and people weren't out (shopping). But we did see an increase in burglaries to motor vehicles. Is that because people were out late at night and bored, so when they finally got out of the house, they did it?"
Last year, Dubuque had one murder. The number of aggravated assault cases rose from 85 in each of 2018 and 2019 to 135 in 2020, an increase of 59%. The number of sexual assault cases rose from 91 in 2019 to 105 in 2020, an increase of 15%.
Police reported 17 incidents of gunshots being fired with criminal intent in 2020, one more than in 2019.
Valerie Bell, Loras College associate professor of criminal justice, said national crime trends largely have been consistent for the past two decades.
"I always have to open with this caveat: It's hard to compare Dubuque crime statistics with the national crime statistics," she said. "We are very unique in our demographics. We are just a small city. However, we do tend to see (similar) trends. (Nationally), we've been seeing drops in violent crime and drops in property crime. The most recent (national) data we have from the FBI is from 2019, and from 2018 to 2019, there was a drop in violent crimes of 5%. In the same time frame, property crimes dropped 4%. It is a trend that has been going on for quite some time – particularly for property crimes, which have been dropping for 20 years."
Reasons for declines in criminal offenses can be complicated because of the various factors influencing crime, she said.
"But as a society, we put a lot of effort into crime prevention," she noted.
Bell said pandemic-related restrictions might explain some fluctuations in crime incidence.
"I would say property crimes that tend to occur outdoors are going to go down and intimate partner violence would increase," she said.
RECALLING A 'VERY CONCERNING SITUATION'
Dubuque's lone murder of 2020 and a New Year's Day shooting both occurred in Trish McDonald's neighborhood.
"The murder on Loras (Boulevard), that was pretty concerning," McDonald said. "That was about a block away from my house."
Deonte W.B. Ellison, 25, is charged with first-degree murder and being a felon in possession of a firearm in relation to the July 2 fatal shooting of Curtis R. Smothers Jr., 25, near the corner of Loras Boulevard and Bluff Street.
McDonald, the president of the Historic Bluffs Neighborhood Association, said police dealt with the crime "fabulously."
"The only other very concerning situation was the shooting that happened on Walnut Street," McDonald said.
Derrick D. Timmons, 29, no permanent address, pleaded guilty in U.S. District Court in Cedar Rapids, Iowa, in December to a charge of possession of a firearm by a prohibited person in connection with the Jan. 1, 2020, shooting that wounded Darrin D. Heard, of Dubuque. Katwan M. Brown, 27, of Dubuque, pleaded guilty to a charge of being a felon and domestic abuser in possession of a firearm in August. Court documents indicate that Brown supplied the handgun used in the shooting of Heard.
Aside from those cases, McDonald characterized 2020 as being a quiet year in her neighborhood and credited the visibility of law enforcement in the area.
"The police have done a fantastic job of being a presence in our neighborhood," she said. "If a neighbor asks me a question (about something suspicious), I've got someone I can call (with the police). That's a huge, positive force in keeping a cap on crime."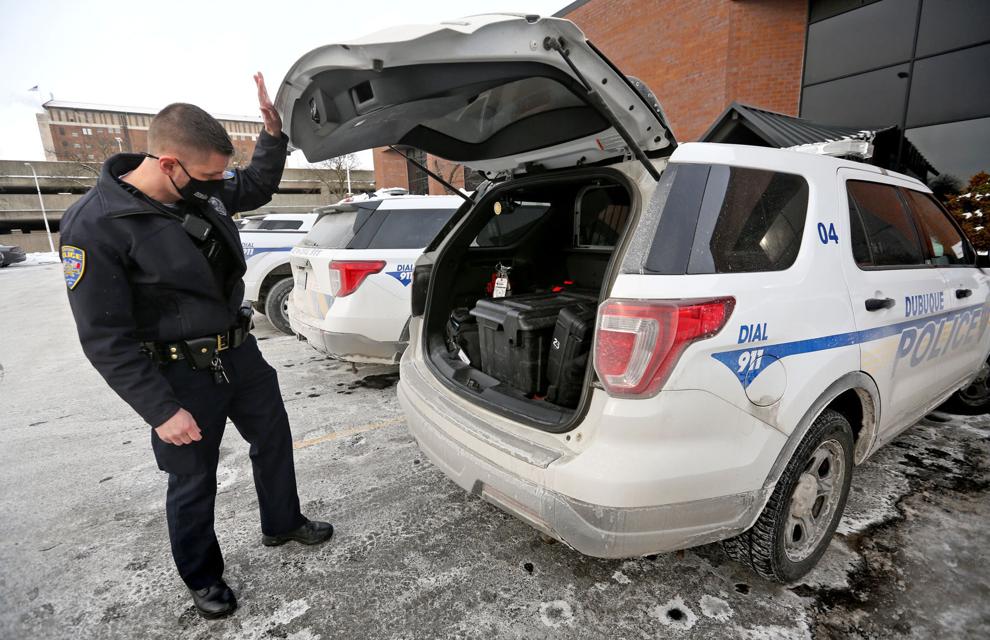 MORE AGGRAVATED ASSAULTS SUGGEST RISING TEMPERS
Dalsing describes the difference between simple and aggravated assaults as a degree of permanence.
"With aggravated assaults, the difference is, it tends to lead to a permanent injury," he said. "If you punch me, and I get a black eye, that's a simple assault because the swelling is going to go down and go away. If you break my nose, chip my tooth or leave a permanent scar, that's an aggravated assault. Sometimes, it's just a little difference between how hard somebody gets hit."
Dubuque had averaged 119 incidents of aggravated assault annually since 2012, so the leap to 135 such cases in 2020 marked a 13.4% increase over the average.
"It's another (crime) where you can't always be definitive about (why it increased)," Dalsing said. "Anecdotally, you see when somebody is down, the fight is not over. When they continue to pound somebody, that's the level of violent temper that elevates so many of these crimes up to aggravated assault."
The police marked an 8% increase in arrests for domestic assaults, from 263 in 2019 to 283 in 2020.
"Unfortunately, we did see that a lot of our domestic (assault cases) had strangulation to a degree," Dalsing said. "That's also an aggravated assault."
Nelly Hill, director of the domestic violence victim services program at Waypoint Services, said national rates of domestic assault incidence remain consistent. Waypoint's service area includes Dubuque, Delaware and Jones counties in Iowa.
Hill said local domestic violence arrest statistics probably only represent a fragment of actual incidents.
"We know there are far more cases that are not reported," she said.
The Centers for Disease Control and Prevention estimate that about 1 in 5 women and 1 in 7 men have experienced "severe physical violence from an intimate partner in their lifetime."
The Dubuque increase in cases, Hill said, "could have to do with the pandemic and more people being at home and being isolated. It could also be attributed to the good work of law enforcement."
The pandemic and its related economic impacts also affected domestic violence survivors in other ways.
"We have seen that the needs for survivors are increasing," Hill said. "That includes safe, stable housing, employment and child care. All of these have been compromised by limitations put in place by COVID. So, we're providing more financial assistance and more advocacy for basic needs."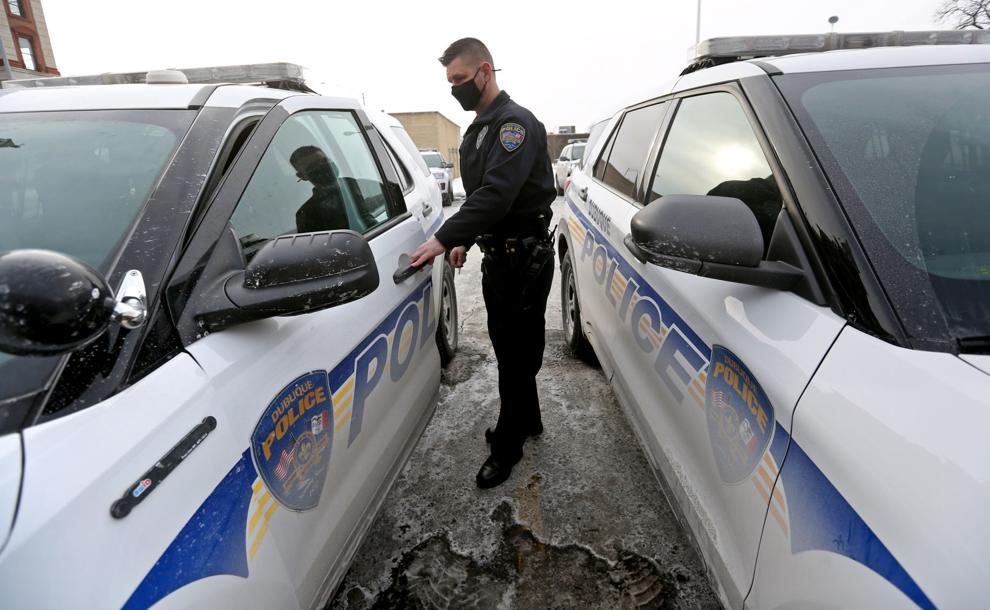 DELVING INTO THE RISE IN SEXUAL ASSAULT CASES
The number of reported sexual assaults rose 15% from 2019 to 2020 in Dubuque.
Joey Taylor, executive director of Riverview Center, said the pandemic probably played a role in sexual and domestic violence in the area.
"When people were really shut at home, we did see a decrease in reports of sexual violence, but we also handle domestic violence over in Jo Daviess and Carroll counties (in Illinois) and saw an increase in domestic violence cases," Taylor said. "As people started to emerge and leave their homes again, we did see a significant uptick in services for sexual assault."
Taylor said statistics from the CDC indicate that as many as 1 in 5 women and 1 in 12 men are victims of sexual abuse in their lives.
"But only 105 (cases) were reported (in the city of Dubuque)," she said. "Sexual violence across the United States is the most underreported crime, and that is for a variety of reasons. No. 1, we assume that we are not going to be believed if we file a report. Other times, there is this victim-blaming mentality, so (victims) think in some capacity they will be blamed for what happened."
Taylor said other factors keep victims quiet, too.
"The survivors we work with, only 8% actually ever choose to engage in the legal system," she said. "We know that 90% of perpetrators of sexual violence perpetrate against someone they know. Oftentimes, (victims) don't report because they don't want to put their family through it. Or it is going to create division among family or friend groups. There are a variety of reasons why people don't report."
Taylor said some of the increase in local sexual assault reports could be attributed to increased comfort among survivors to step forward.
"We work very closely with law enforcement, with the hospitals, with the justice system, with the county attorney and with (the county's) victim-witness coordinator to make sure everything that they do is a trauma-informed approach to working with victims," she said.
Such an approach is centered on victim advocacy and immediate access to trained advocates.
"Law enforcement should get credit for taking a more trauma-informed approach with the work that they're doing with victims," Taylor said. "When that happens, word gets out in the community. People do feel a greater sense that they would be believed (if they reported a sexual assault)."
Dalsing said relationships linking perpetrators and victims of sexual assault "add another layer to the overall difficulty of being a sexual assault survivor" but agrees with Taylor that community partnerships among agencies have increased the comfort for reporting incidents.
"And when you look at things like the 'Me Too' movement, it brought up strength in some individuals to step forward (and report) when maybe they wouldn't have in years before," Dalsing said.
KEEPING A WATCHFUL EYE ON CRIME
The City of Dubuque utilizes more than 1,500 traffic and other surveillance cameras, often placed at the intersections of Dubuque's most heavily traveled roads and also overlooking parks, parking ramps and other public spaces.
Dalsing said footage from the cameras serves as an indispensable tool for law enforcement.
Dispatchers with monitors "are often giving us a play-by-play as things are unfolding, as crimes happen, on the radio," Dalsing said. "If an officer happens to be in the back (of Dubuque Law Enforcement Center), working on reports, they will jump on the cameras and give play-by-play as things happen. It is used daily by the officers. Something as simple as someone getting their mirror taken off by a hit-and-run driver — five years or 10 years ago, (that offense) goes unsolved and your insurance company eats it. Now, it's a situation where we look at the camera, find the damage and charge somebody."
While widespread use of the cameras might not influence the incidence of crime, Dalsing said the technology helps investigators solve them.
"Last year, we had one murder — it was 100% captured on video," Dalsing said. "Some of the other crimes — sexual assault, aggravated assault — if it's happening behind closed doors, in a private residence, we're not going to see it. But the cameras are still used to investigate on the back end, trying to figure out when people arrived, when they left, making or breaking alibis based on where they say they were. The cameras are probably looked at in every major crime that happens in the city."
PUTTING CRIME DATA TO GOOD USE
Dalsing said reviewing Dubuque's crime statistics can help determine areas of increased focus.
"The fact that we changed by 0.2% tells us that a lot of things are working," he said. "But when we see that our increases were in personal crime versus property crime, it makes us think, is there more we could be doing in this realm? I think the biggest thing we can do with a lot of these (person-to-person crimes) is the support that we give to our partners: the Riverview Center, the victim-witness coordinator, the county attorney and anybody else who is an advocate group. It's an ongoing effort."