If you're looking to inject a little more culture into your life, you'll find everything from booming brass bands to high-energy hip hop dance to hilarious improv comedy at University of Dubuque Heritage Center, a fine arts and entertainment venue serving both the campus and community at large.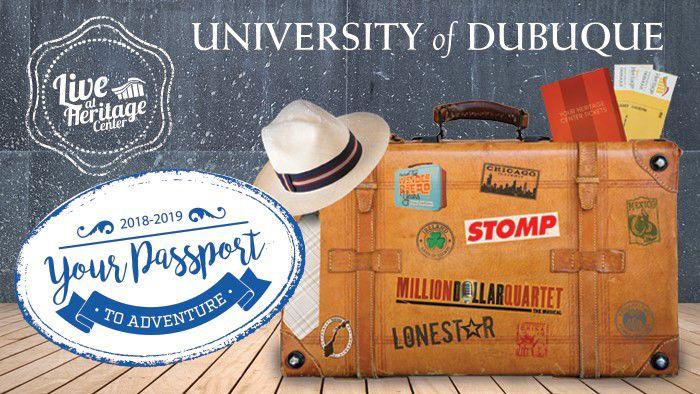 "The University of Dubuque views itself as a cultural resource to the community," said Thomas Robbins, executive director of Heritage Center. "Serving in a key outreach role, Heritage Center provides arts and cultural enrichment that complements the vast array of similar opportunities offered throughout the tri-states."
When Heritage Center opened five years ago, Dubuque was already home to many vibrant arts and culture organizations. Heritage Center set out to carve a few special niches, including multicultural programming, presentation of professional dance companies, and theater for young audiences appealing to families with children.
Here are five reasons you won't want to miss the 2018-2019 Live at Heritage Center Performing Arts Series:
 1.     Incredible events. The new season features the international percussion sensation STOMP, a touring version of the hit Broadway show "Million Dollar Quartet," and country supergroup Lonestar.
 2.     Debut of a new flexible season ticket plan. Patrons build their own ticket package based on events of greatest interest. Here's how it works: subscribers choose as few as seven of 15 CenterStage events and then become eligible for discounts, priority seating, and other benefits. (Those choosing all 15 events receive the maximum of 25 percent off regular prices.)
 3.     Suitable for the whole family. Once subscribed to the CenterStage series, patrons can choose to supplement with additional tickets or packages, including the Family Series and the B.I.T.E. Size Series, offering smaller, more intimate theater productions.
 4.     An artistic journey around the world. This season's theme is "your passport to adventure." Multicultural performers include B2wins from Brazil, Manhu from China, and the Unni Boksasp Ensemble from Norway. You can also catch traditional Celtic music and dance and a Mexican music and comedy show entitled "Olé!"
 5.     Engaging experiences. Heritage Center presentations are unique because they're often supplemented by talkbacks with performers, meet-and-greets, pre-show lectures or live lobby music, and other activities to engage with the art and the artists.
 "We have created a one-stop-shop," said Korissa Clark, Heritage Center office manager. "Heritage Center also functions as a student center complete with a cafe, an art gallery, and an ice cream parlor." Robbins added, "People come early and they stay late. It's an experience."
So a subscription doesn't just grant you access to amazing music, theater, and dance, it allows you to be part of a special community that's been growing rapidly over the last five years.
"Our focus is programming that captivates young people. Obviously, our students are our priority," Robbins says. "But we also attempt to achieve a healthy synergy in our event choices hopefully resulting in pleasurable experiences for everyone, including our public audience."
Opened in 2013, University of Dubuque Heritage Center provides live entertainment, theater performances, musicals and other cultural events to its campus and the surrounding regional community. For more information, visit the Heritage Center website or call (563) 585-7469.