Family and community are the most important things to Dubuque residents Jim and Jean Gantz, and they have made plans to take care of both long into the future.
In planning their estate, they arranged for their assets to be passed down to their children as well as to their community through the Community Foundation of Greater Dubuque. Along with other gifts, Jim and Jean committed a $1 million legacy gift to the Greater Dubuque Forever Fund, which will transfer from their life insurance policies to the Foundation after they pass.

Jim and Jean raised two children in Dubuque, and they have retired from rewarding careers: Jim is a former owner of a now fourth-generation family business and Jean is a former special education teacher. In retirement, they are thinking about the legacy they will leave to their loved ones and the community that they have called home for decades.
"The community has been really good to us, and our giving is about supporting the community that supports us," says Jim, a Community Foundation board member. "We found in so many instances that the more we give, the more we get."
The Gantzes have a long history of charitable giving. They began their relationship with the Community Foundation by starting several endowments for Holy Spirit Parish around the time the Foundation formed in 2002. They also have given to other endowment funds the Foundation hosts, such as the National Mississippi River Museum and Aquarium.
Today, they still support individual causes they are passionate about, and they also are thinking bigger. They want to help Dubuque tackle whatever challenges arise long after they are gone. In planning for their children's future, they found the perfect opportunity to do just that.
Part of the plan for their children required them to purchase life insurance, and they found out they could get a lot of insurance for reasonable premiums. Plus, they learned that they could use required minimum distributions from individual retirement accounts to pay the insurance premiums. Now, the policies are owned by the Community Foundation, and they will support community needs for generations to come.
"By asking questions and sharing our goals about giving, the Community Foundation guided us so we could come up with a plan that gave us options," Jean says. After working with the Foundation and taking part in its complimentary estate planning service with Thompson & Associates, they also set up a $1 million Charitable Remainder Unitrust, which will transfer to the Foundation.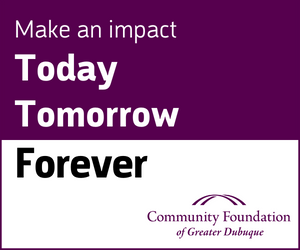 For the Gantzes, the decision to support the Forever Fund with their legacy giving was easy.
"We have a number of personal passions we might want to support with our giving, but those can be hard to define," Jim says. "With the Forever Fund, it is designed to be flexible, so whatever needs or opportunities arise, we will be ready to meet them. The Foundation has done the research to identify the greatest needs in the community and where those gifts can have the greatest impact."
How will you support what matters most? Join the Community Foundation in raising $5 million for the Greater Dubuque Forever Fund by 2023. Make your gift today at dbqfoundation.org/forever.
Or, contact Bobbi Earles, vice president of development and communications, at 563-588-2700 or bobbi@dbqfoundation.org.